Melania Trump's spokesperson: Boycott TI for video with racy depiction of the first lady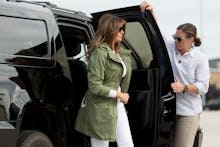 On Friday, the rapper T.I. tweeted a video to promote his new album, Dime Trap. In it, we see glimpses of President Donald Trump and T.I. sitting in the president's seat in the oval office. Most notably, however, is the representation of Melania Trump in the video: a stripper wearing nothing but the first lady's now infamous "I really don't care, do U?" green jacket.
In response to the video, Stephanie Grisham, White House director of communications, tweeted her response, saying "How is this acceptable? #disgusting." Tagging T.I. in her response, Grisham asked fans to boycott the rapper.
Trump's "I really don't care, do U?" coat is one of the first lady's most memorable looks, but not for fashion reasons. She wore it on her way to visit the border between United States and Mexico, where children were being detained after being separated from their parents.
According to Melania Trump herself, "It's obvious I didn't wear the jacket for the children. I wore the jacket to go on the plane and off the plane, and it was for the people and for the left-wing media who are criticizing me," she said. "I want to show them that I don't care."
T.I.'s depiction of Trump is not meant to be endearing; he has made it very clear how he feels about the current administration. In his tweet, T.I. says, "Dear 45, I ain't Kanye," as a reference to Trump and Kanye West's friendship. West has taken a liking to Trump, proudly wearing the president's "make America great again" hat — a hat that, according to West, makes him feel like Superman.
In a song featuring both T.I. and West, "'Ye vs. the People," the two debate West's affinity for Trump. T.I. explains to West, "You've gotta see the vantage point of the people, what makes you feel equal makes them feel evil." West fires back saying "that's the problem with this damn nation. All blacks gotta be Democrats. Man, we ain't made it off the plantation."