Chance the Rapper announces his endorsement for mayor of Chicago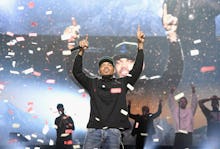 Chicago-based emcee Chance the Rapper, aka Chancelor Bennett, announced his endorsement in the Chicago mayoral race on Tuesday in a press conference at Chicago's City Hall. The 25-year-old Grammy-winning musician and activist endorsed Amara Enyia, a lawyer, policy consultant and community activist who announced her candidacy in August.
In the announcement on Tuesday, standing alongside Enyia, Chance called her "the most qualified candidate" and encouraged voters "to find their individuality in this election and vote where their heart is."
Later he told the crowd, "I think that you are looking at the future mayor of Chicago."
Chance sent out a tweet on Monday that just said "City Hall pull up," along with an image announcing the news of his Tuesday press conference — and the cryptic tweet fueled rumors that he might be entering the race himself.
And some people, apparently, wanted that to be the case: Back in 2017, a group of Chance fans started the website Chano4Mayor.com, urging him to run. Chance also included a line in his 2015 song "Somewhere in Paradise" that acknowledged the possibility: "They say I'm savin' my city, say I'm stayin' for good/ They screamin' Chano for mayor, I'm thinkin' maybe I should."
Chance has also been a vocal critic of the current mayor of Chicago, Rahm Emanuel. In a new song he dropped over the summer, Chance called on Emanuel to resign, rapping, "And Rahm you're done, I'm expecting resignation/ An open investigation on all these paid vacations for murderers."
It turns out, though, Chance is not running for mayor himself — at least not yet. Chance's Tuesday endorsement of Eniya puts him at odds with his own father, former Emanuel aide Ken Bennett, who has endorsed a different candidate in the race: Cook County board president Toni Preckwinkle, according to the Chicago Sun-Times.