Tucker Carlson is the latest conservative having trouble dining out at restaurants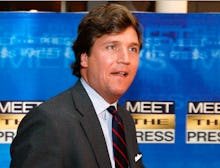 Fox News host Tucker Carlson had an awful lot to say in an episode of a National Review podcast released Monday. When asked which restaurant in Washington, D.C., is his favorite, the host of Tucker Carlson Tonight said dining out in the nation's capital had recently become difficult.
"I can't really go to a lot of restaurants anymore because I get yelled at," he said. "Having someone scream 'fuck you' at a restaurant, it just wrecks your meal. I don't really go to restaurants anymore. ... It's sad. I can't wait for this revolution to end so I can go out to dinner."
Carlson isn't alone in his complicated relationship with restaurants. Over the last year or so, restaurants have become heated spaces for protest and sources of bipartisan debates spurring illicit reviews on Yelp pages and volatile Twitter exchanges.
In June, White House press secretary Sarah Huckabee Sanders was asked to leave Red Hen, a restaurant in rural Virginia.
"This feels like the moment in our democracy when people have to make uncomfortable actions and decisions to uphold their morals," Red Hen owner Stephanie Wilkinson told the Post at the time. "[...] I explained that the restaurant has certain standards that I feel it has to uphold, such as honesty, and compassion and cooperation."
Following the incident, President Donald Trump criticized the Red Hen's "canopies, doors and windows" he said were "in need of a paint job" in a tweet.
In September, Sen. Ted Cruz (R-Texas) was similarly booted from a Washington restaurant amid the heated confirmation hearings of now-Supreme Court Justice Brett Kavanaugh.
"We believe survivors," a crowd sang around Cruz and his wife, Heidi Cruz, outside the restaurant.
The accessibility of restaurants and review platforms like Yelp enable many to have a voice about the current state of politics. Regardless of whether they've dined at the establishment, a person can bash or support a restaurant for the way it dealt with a political incident or even for its house special.
"I did love the decor/look of the place, but I felt like the air of whatever is happening in the media/politically toward this place overshadowed our meal," one Yelp reviewer wrote about the Red Hen. "People seemed to either be eyeballing us, trying to figure out which side of the fence we were on, which is neither, or ignoring us completely [because] they [probably] thought they knew. Politics don't play into my hunger."
Several Washington restaurants are working to prepare themselves for the possibility of protests, going so far as to conceal the identity of some patrons and disallowing employees from posting on social media, WAMU, a Washington-based public radio station, reported in August.
Responding to recent restaurant controversies in a segment of his show, CNN commentator Don Lemon said protesting at restaurants is ultimately a right of the American people.
"In the Constitution, you can protest whenever and wherever you want," Lemon said. "It doesn't tell that you can't do it at a restaurant. It doesn't tell you that you can't do it on a football field. It doesn't tell you that you can't do it on a cable news show. You can do it wherever you want, and to call people 'mobs' because they are exercising the constitutional right is just beyond the pale."