Mic Daily: The GOP relies on fear in its latest round of midterm ads — and other news of the day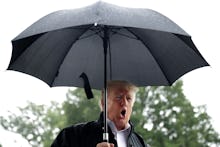 Good evening, folks. It's another busy day out there, so let's jump right in. Here are the top five stories out of Mic today.
We're just a few weeks away from the long-awaited midterms, and the Republican Party is pulling out all the stops to prevent a "blue wave" from taking over Congress. The big takeaway from all these ads is that you should be scared — very scared — of the liberal "mob."
Six months ago, New York City police killed 34-year-old Saheed Vassell in broad daylight on the streets of the Crown Heights neighborhood in Brooklyn, New York. Vassell had been pointing what turned out to be a metal pipe at pedestrians, but officers showed up and opened fire almost immediately. None of the officers have been charged — and his father wants to know why.
Monday night, Lady Gaga showed up to the Elle magazine Women in Hollywood event wearing an oversized Marc Jacobs suit — a sartorial choice she explained in an impassioned speech about image, power, assault and the way women are perceived in the media.
On Tuesday, Netflix dropped the trailer for its newest entry in the food TV space: The Final Table, which hopes to assert itself as a more globally oriented, Olympics- or Eurovision-style competition program.
Zauo, a brand-new restaurant that's already popular in Japan, has just opened up its first U.S. location in New York City.
At Zauo — according to Mic's own Josh Ocampo, who attended an early preview — diners are challenged to "fish" their own food out of a tank. If you'd rather not, that's OK, but you'll have to pay extra for a waiter to do it for you.
Mic Daily is Mic's newsletter that cuts through the noise and lands in your inbox every weekday. We carefully curate each edition to send you a cross section of our most vital stories of the day.