Trump administration hits Iran with new round of sanctions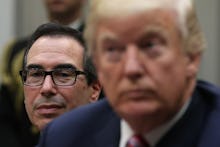 The Trump administration is leveling new sanctions against Iran to target a "vast network of businesses providing financial support" to the government's paramilitary force, the U.S. Department of the Treasury announced Tuesday.
The United States sanctioned the Bonyad Taavon Basij, the network supporting the Basij Resistance Force, which the department said "recruits, trains and deploys child soldiers."
"The international community must understand that business entanglements with the Bonyad Taavon Basij network and [Islamic Revolutionary Guard Corps] front companies have real world humanitarian consequences," Treasury Secretary Steve Mnuchin said in a statement. "This helps fuel the Iranian regime's violent ambitions across the Middle East."
Tensions have been high between Washington and Tehran since May, when President Donald Trump withdrew the U.S. from the Iran nuclear deal. He had been a staunch critic of the landmark 2015 accord, describing it as "defective at its core."
In August, the administration reinstated the sanctions that had been lifted as part of the Joint Comprehensive Plan of Action. He promised additional sanctions during a blistering speech before the United Nations General Assembly in September.
He has also in recent months traded threats with Iranian President Hassan Rouhani, including in an all-caps tweet warning his counterpart that he will "SUFFER CONSEQUENCES THE LIKES OF WHICH FEW THROUGHOUT HISTORY HAVE EVER SUFFERED BEFORE" if he threatens the U.S. again.
The new sanctions targeting Iran come as Trump faces calls to sanction Saudi Arabia over the presumed killing of a dissident journalist.
Jamal Khashoggi has been missing since entering the Saudi Arabia consulate in Turkey on Oct. 2. Turkey has said Khashoggi was killed and dismembered at the direction of the Saudi regime.
Trump has appeared hesitant to hit Saudi Arabia, a U.S. ally with a record of human rights abuses, with sanctions. He has told reporters in recent days that the United States' relationship with Saudi Arabia remains "excellent."
Nevertheless, the rising tensions with Saudi Arabia could complicate his administration's pressure campaign against Iran, as the U.S. has depended on Saudi oil in its effort to cut off all Iranian oil exports.