Lady Gaga is definitely engaged to Christian Carino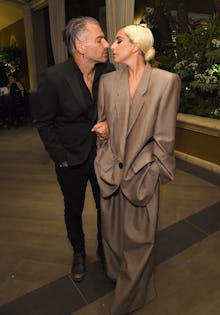 Stop the speculation, because A Star Is Born actor Lady Gaga is definitely engaged. The pop star confirmed the news when she specifically thanked her beau, Hollywood agent Christian Carino, during her speech at Elle's 25th annual Women in Hollywood celebration in Los Angeles on Monday night.
"Thank you to all the loved ones in my life. [Manager] Bobby [Campbell], I love you," Gaga said, according to the Associated Press. "Everyone at table five. My fiancé, Christian. All the loved ones in my life who take care of me every day. And Ryan Murphy, thanks for giving me my first leading role. You know that Golden Globe belongs to you."
Rumors that Gaga and Carino are engaged have been floating around since this most recent summer, when Gaga was spotted wearing a big ring during her press tour for A Star Is Born, according to the AP, but her mention of her "fiancé" confirmed the rumors.
According to People, they've been dating since at least February 2017, when they were spotted together at a concert. They're also all over each other's social media, posting very cute couple photos on their respective Instagrams, Harper's Bazaar pointed out on Tuesday.
Gaga has been engaged before — to actor and model Taylor Kinney. The two have reportedly stayed friends since they split up back in July 2016. At the Elle event on Monday where she confirmed the news of her engagement to Carino, Gaga also spoke about her decision to wear an oversized suit to the event.
"I felt like me. I felt the truth of who I am up in my gut," she told the crowd, according to People. "As a sexual assault survivor by someone in the entertainment industry, as a woman who is still not brave enough to say his name, as a woman who lives with chronic pain, as a woman who from a very young age was conditioned to do what men told me to do, I decided today I wanted to take the power back. Today I wear the suit."