Trump appears to accept Saudi Arabia's denial in presumed killing of dissident journalist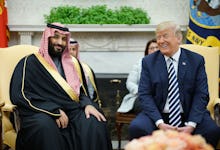 President Donald Trump on Tuesday suggested he will accept the Saudi Arabian government's denial of involvement in the presumed killing of Jamal Khashoggi — the dissident journalist who was last seen entering the Saudi consulate in Istanbul on Oct. 2.
"Just spoke with the Crown Prince of Saudi Arabia who totally denied any knowledge of what took place in their Turkish Consulate," Trump tweeted Tuesday, echoing the language he's used to accept the denials of wrongdoing of other world leaders. "He has already started, and will rapidly expand, a full and complete investigation into this matter."
"Answers will be forthcoming shortly," Trump added.
The tweet came as Secretary of State Mike Pompeo traveled to Saudi Arabia to discuss Khashoggi's disappearance — and as the Trump administration faces increased bipartisan pressure from lawmakers to stand up to Saudi Arabia over the alleged killing.
Trump has resisted calls to punish Riyadh, saying it could have an adverse impact on the U.S. economy and maintaining that his relationship with the American ally remains "excellent." But the presumed killing of Khashoggi has triggered intense scrutiny of America's relationship with the regime — a notorious abuser of human rights.
"America is, for the first time, having a long overdue discussion about what Saudi Arabia is as an ally," Ben Freeman, director of the Foreign Influence Transparency Initiative at the Center for International Policy, said in a phone interview. "What we're hearing right now is just the beginning of a new focus on the human rights record there."
Khashoggi, a critic of the Saudi government, was a columnist for a Saudi-owned newspaper before fleeing to the U.S., where he contributed to the Washington Post. He was last seen entering the Saudi consulate in Turkey to retrieve a document for his wedding.
Turkey has said the Saudi government was behind the alleged killing and dismemberment of the dissident journalist, and the United Nations has called for a thorough investigation into Khashoggi's disappearance.
The Saudi government, however, has repeatedly denied involvement, though CNN reported Monday that Riyadh is preparing to admit Khashoggi accidentally died while regime officials were interrogating him.
That Trump is apparently accepting Saudi Arabia's denial of wrongdoing puts him at odds with members of his own party, including Sen. Lindsey Graham (R-S.C.), one of his staunchest supporters. Graham said in an television interview Tuesday that the U.S. should "sanction the hell out of Saudi Arabia."
Critics have suggested Trump's well-documented business ties to Saudi Arabia may be a factor in his apparent reluctance to punish the country. Trump tweeted Tuesday he has "no financial interests in Saudi Arabia" — even though his companies have made millions of dollars from the Saudi government, something he's previously acknowledged.
"The United States must be a moral voice for human rights, yet this administration has abdicated that responsibility," Rep. Lois Frankel (D-Fla.), a member of the House Foreign Affairs Committee, told Mic in a statement. "It's not hard to read between the lines: Saudi Arabia has spent millions on Trump businesses, which has lined his pockets and bought complicity. To find the truth, there must be an independent investigation, and those responsible should be sanctioned."
Trump has cast doubt the Saudi government was responsible for the presumed killing, suggesting to reporters Monday outside the White House that "rogue killers" might have actually carried out the alleged assassination.
"The king firmly denied any knowledge of it," Trump said. "He didn't really know. Maybe. I don't want to get into his mind, but it sounded to me like maybe these could have been rogue killers. Who knows?"
His seeming acceptance of the Saudi regime's denials strongly echoed his acceptance of Russian President Vladimir Putin's denials that the Kremlin meddled in the 2016 U.S. election.
"He just said it's not Russia," Trump said in an infamous joint press conference with Putin in July. "I will say this, I don't see any reason why it would be."
While Trump is apparently willing to take the Saudi government's word on the matter, Freeman said there's little reason to trust the regime.
"It's hard for me to find [their denials] credible," Freeman said.
Trump now finds himself somewhat isolated in continuing to back the Saudi government, Freeman added, noting that even some of the president's closest allies have called for sanctions — a stance that amplifies concerns over Trump's potential conflict of interest.
"He is the only one in his party left who is defending the Saudis," Freeman said. "It really makes you question whether we can really believe Trump on any issue related to Saudi Arabia."