This Week in Food and Travel: A look inside the anti-Trump hotel in Washington, DC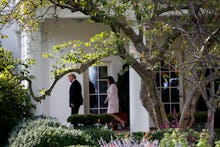 In 2018, activism is a lifestyle. There's perhaps no better proof of this than the Eaton Hotel in Washington, D.C., part of a larger collective called Eaton Workshop, which launched to fuel — and comfort — the resistance. Founder Katherine Lo concocted the concept to subvert the traditional hotel model and create a space for people invested in progressive social change. Eaton opened at the end of September and, judging by the booked rooms, so far, so good.
"I want reporters to utilize Eaton D.C. as a modern-day press club, a safe spot in very uncertain times," Lo said. She also hopes activists, nonprofits and other liberal movers and shakers will use the multiple spaces as a inspiring hubs to make real-world change.
We're seeing other types of change across the hospitality industry: At one New York restaurant, waiters are leaving it up to customers to literally fish for their dinner. Zauo, which officially opened its doors this week, encourages its patrons catch a lobster, salmon or trout from the large tanks around the restaurant. Chefs will then prepare the fish in multiple ways, and guests can feel like they "earned" their kill.
For something a bit more universally crowd-pleasing, Netflix is launching a cooking competition show that's more inclusive than anything we've seen before. Also: Cats on a boat. Read on to learn more.
"If standing for LGBTQ rights, gender equality or environmental justice means that we are known as the 'anti-Trump hotel,' I am more than happy with that association," Lo said.
De Poezenboot, home to about 50 rescue cats at a time, sits within the city's iconic canals. It's been there since the '60s.
While the chain has found great success in Japan, only time will tell if the joy that comes from capturing your dinner will resonate in the States.
Food TV has a diversity problem. This new, international series may be the one to fix that.