Mary Bono resigns as interim director of USA Gymnastics amid criticism over Nike's Kaepernick ad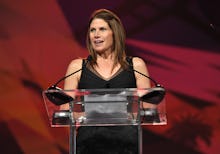 Mary Bono has resigned from her position as interim director of USA Gymnastics amid criticism over her tweet opposing Nike's 30th anniversary "Just Do It" campaign featuring Colin Kaepernick and her connection to a law firm that represented now-convicted rapist Larry Nassar while he was under investigation. Bono, who was appointed to the position Friday, announced she was stepping down in a statement Tuesday afternoon.
"My regret is that I would have brought to the organization, the angst and anger of my own story: a young aspiring gymnast who witnessed firsthand the assaulting behavior of a coach; watched peers who acquiesced in it move ahead while those who didn't were left behind and myself stayed silent — perhaps the norm then, but very troubling to me to this day," she wrote.
Bono is a former employee of the law firm Faegre Baker Daniels, where Scott D. Himsel worked as a representative for USA Gymnastics. Himsel and Nassar helped make up excuses to "cover up" investigations about former USA gymnastics team doctor Nassar's sexual assault allegations, the Indianapolis Star reported. On Monday, Olympic gold medalist Aly Raisman, who herself revealed she had been abused by Nassar, called for Bono's ousting. "Why hire someone associated with the firm that helped cover up our abuse?" she tweeted.
Bono's resignation letter also addressed her now-deleted tweet post in September in response to Nike announcing Kaepernick as the face of its latest campaign. Olympic gold medalist Simone Biles critiqued Bono's tweet against Nike.
"*mouth drop* don't worry, it's not like we needed a smarter usa gymnastics president or any sponsors or anything," Biles tweeted Saturday.
"Playing in a charity golf tournament raising money for our nation's Special Forces operators and their families," Bono wrote in the original tweet along with a photo of her marking out the Nike logo on her golf shoes. "Unfortunately had these shoes in my bag. Luckily I had a marker in my bag too," she continued.
Bono, a former GOP congresswoman for California's 45th District, was one of many who responded to the ad by burning and marking up their Nike shoes and posting images and videos of the damaged products to their social media pages. She was hired in September after CEO Kerry Perry quit after nine months in the role.
"With respect to Mr. Kaepernick, he nationally exercised his first amendment right to kneel," Bono wrote in her statement. "I exercised mine: to mark over on my own golf shoes, the logo of the company sponsoring him for "believing in something even if it means sacrificing everything" — while at a tournament for families who have lost a member of the armed services (including my brother-in-law, a Navy SEAL) who literally "sacrificed everything."