Today in Trump's America: Trump says he won't take responsibility if Republicans lose the House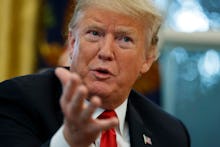 We've made it to the middle of the week, readers, and oh what a week it's been.
When reporters saw that Trump had no public events on his calendar on Tuesday, they warned that the free time could lead to some news-making tweets from the president of the United States. And they were right.
Trump spent Tuesday tweeting things that spurred yet another negative news cycle for the White House, after he called adult film actress Stormy Daniels — whom he paid hush money to keep her affair allegations silent — "horseface." It's not even close to the first time he's insulted a woman's appearance, but it's nevertheless always a shock to see the leader of the free world lob petty insults.
Trump does have events on his calendar on Wednesday, but as we've seen over the past nearly two years, that may not preclude him from sending offensive or problematic tweets.
Today in Trump's America:
• Trump's day begins at 11 a.m., when he'll meet with workers to discuss "cutting the red tape" and "unleashing economic freedom," according to the White House schedule.
About last night: Trump says it's not his fault if Republicans get swamped by a blue wave
In an interview with the Associated Press on Tuesday, Trump said he doesn't have plans to take responsibility for a Democratic wave in the midterm elections, saying that he thinks he's helpful to Republicans running in 2018.
"No, I think I'm helping people," Trump said in response to a question about whether he bears any responsibility for potential Republican losses. "Look, I'm 48 and 1 in the primaries, and actually it's much higher than that because I endorsed a lot of people that were successful that people don't even talk about. But many of those 48, as you know, were people that had no chance, in some cases."
Of course, primaries are very different from general elections. The electorate is much more diverse than the GOP base that comes out to pick Republican nominees.
According to the latest ABC News/Washington Post poll, 60% of registered voters want to see Congress controlled by Democrats "to act as a check on Trump," as opposed to the 34% who want to see Congress controlled by Republicans to "support Trump's agenda." That means Trump is playing a major role in the midterms.
When the AP pointed out to Trump that former President Barack Obama took responsibility for Democrats getting a "shellacking" in the 2010 midterms, Trump ignored the question and went on to talk about how great he's doing as president.
"I think we're going to do well," Trump said. "Look, it feels to me very much like '16. I was going out and making speeches and I was getting tens of thousands of people. And I was getting literally tens of thousands of people, also, more than Hillary in the same location. And I said, 'Why am I going to lose?' I mean, I go out, I make a speech like I have, you know, 25 times more people than she gets. And I didn't need Beyoncé to get them. I didn't have to have, you know, entertainment and entertainers to get them. And then they'd all leave before she made the speech after the entertainer was finished. Honestly, it feels very much like it did in '16."
Trump then went on to compare criticism of Saudi Arabia's potential involvement in the presumed killing of Washington Post contributor and Saudi dissident Jamal Khashoggi to the allegations against now-Supreme Court Justice Brett Kavanaugh.
"Well, I think we have to find out what happened first," Trump told the AP. "You know, here we go again with, you know, you're guilty until proven innocent. I don't like that. We just went through that with Justice Kavanaugh. And he was innocent all the way. So I was unconcerned."
During the judge's confirmation process, California professor Christine Blasey Ford accused Kavanaugh of having sexually assaulted her while the two were in high school in the early 1980s. The justice was not put on trial.
The AP also asked about his latest smear of porn actress Stormy Daniels.
"Is it appropriate to call a woman, and even one who is making serious allegations and who you are in litigation against, to call her a horseface?" the AP asked.
"You know what? You can take it any way you want," Trump said of his comment.
Today in Trump's America: Mueller "ready to deliver key findings" of Trump-Russia investigation, Bloomberg reports
Special counsel Robert Mueller is ready to issue findings on key aspects of the investigation into whether the Trump campaign colluded with Russia in their interference in the 2016 presidential election, and will release the findings "soon after the November midterm elections," Bloomberg News reported early Wednesday morning.
Bloomberg reported that Mueller is almost done with two of the biggest aspects of the investigation: collusion between Trump's campaign and Russia, and whether Trump obstructed justice to try to shut down the Russia investigation.
It's unclear if Mueller's findings will be made public, Bloomberg reported.
And the rest...
Rumble in the Texas jungle: GOP Sen. Ted Cruz and Democratic Rep. Beto O'Rourke met for their second debate in the Texas Senate race Tuesday night, in which O'Rourke took pointed jabs at his Republican opponent, calling him "dishonest."
"That's why the president called him Lyin' Ted and it's why the nickname stuck, because it's true," O'Rourke said, according to the Texas Tribune.
Mic's Aaron Morrison went to Texas in Oct. 8 to attend one of O'Rourke's rallies and talk about his focus on social justice issues. You can watch that interview here.
Supreme Court: Chief Justice John Roberts made rare remarks about politics on Tuesday, in which he vowed to ensure the Supreme Court will remain a nonpartisan branch of the government.
"I will not criticize the political branches," Roberts said at the start of a speech at the University of Minnesota, Politico reported. "We do that often enough in our opinions. What I would like to do is emphasize how the judicial branch is and must be very different."
His comments came after Kavanaugh's nomination battle got extremely partisan, with Kavanaugh himself vowing revenge against Democrats by telling them "what goes around comes around."