Hype Daily: 'To All the Boys I've Loved Before' was a hit for Netflix and more entertainment news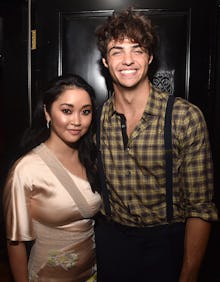 Hey y'all! Welcome to today's refreshing glass of entertainment news. Let's take a look at the latest headlines.
The rom-com 'To All the Boys I've Loved Before' was a massive hit for Netflix
Netflix has been getting into the romantic-comedy game recently and it turns out that it's paid off, big time. According to Variety, Netflix revealed in its third quarter earnings report on Tuesday that "more than 80 million of its subscribers from around the world" watched one of the rom-coms it released over the summer, which included films like Set It Up and The Kissing Booth.
And the adorable teen rom-com To All the Boys I've Loved Before was a huge hit for the streaming service. Per Variety, the company said in the report that it is now one of the platform's "most-viewed original films ever with strong repeat viewing."
Don't worry — Netflix knows you want more. Variety reported that Netflix said it is already working on "the next set of original rom-coms." Give us the good stuff, Netflix.
Mia Farrow says she's experienced sexual harassment in Hollywood
Actor Mia Farrow accepted an award presented to her by her son, reporter Ronan Farrow, at Elle magazine's 25th anniversary Women in Hollywood celebration on Monday night. And in her acceptance speech, Farrow spoke about her own experiences with sexual harassment in the industry.
"I started working in this town more than a half a century ago," Farrow said, according to the Hollywood Reporter. "I do know what it's like to be groped and prodded in auditions. As a 17-year-old apologizing to the studio head who just stuck his tongue down my throat — apologizing out of the room. I know what it's like to go to work and have men make every single decision — from the clothes you wear, to the salary you get to the decisions you make about your performances, all of that — I mean, I know that in the core of me."
She went on to say that she hopes to "live to see equality. Not just progress, not just improvement, but true, deep, lasting, unequivocal equality."
Keira Knightley says she won't show her daughter The Little Mermaid
Actor Keira Knightley says she's avoiding showing her 3-year-old daughter, Edie, films with harmful messages about women — and that includes Disney's The Little Mermaid. In an appearance on The Ellen DeGeneres Show on Tuesday, Knightley said that both The Little Mermaid and Cinderella are on the banned list, according to the Hollywood Reporter.
Cinderella is banned "because, you know, she waits around for a rich guy to rescue her. ... Rescue yourself, obviously." And as for The Little Mermaid, "I mean the songs are great, but do not give your voice up for a man," Knightley said. "I love The Little Mermaid, so that one's a little tricky one, but I'm keeping to it."
Don't worry, not all Disney movies are off the table at Knightley's house, though — Moana, Frozen and Finding Dory are all OK in her book.
Ratings for The Walking Dead hit a series low
The zombie-horror-drama series The Walking Dead aired the second episode of its ninth season on Sunday night, and according to Variety, the ratings for that episode marked a new series low. The latest episode earned a "2.0 rating in the key 'adults 18 to 49' demographic," whatever that means.
But low ratings are a blow to the long-running series, which was once one of the most popular in that same demographic. This does beg the question: After nine seasons, is it possible that viewers are just tired of watching the intrepid stars fight zombies?
Put this on your radar: Lin-Manuel Miranda and Jonny Sun's new book is out
The new book Gmorning, Gnight! written by Hamilton creator Lin-Manuel Miranda and illustrated by artist and Twitter celeb Jonny Sun was released in hardcover on Tuesday and it's an adorable little pick-me-up for these troubled times.
The book was inspired by Miranda's daily morning and evening messages to his Twitter followers, short little poems and affirmations to begin and end each day — and that's pretty much what the whole book is, paired with illustrations from Sun. A Spanish version of the book is also happening, check it out here.
This has been Hype Daily, Mic's morning entertainment roundup. It's everything you need to catch up on in the entertainment world and what to look forward to today. Want to receive this as a daily email in your inbox? Subscribe here.