Robert Mueller will reportedly issue key findings in Russia probe after midterms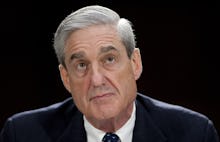 Special counsel Robert Mueller is reportedly preparing to deliver his key findings in the Russia probe shortly after the upcoming midterm elections.
Mueller is expected to present his conclusions — regarding possible conspiracy between the Trump campaign and the Kremlin, along with potential obstruction of justice by President Donald Trump — to the Department of Justice after Nov. 6, Bloomberg News reported Wednesday, citing unnamed United States officials.
It's not yet clear what Mueller's findings will be, and it's also uncertain if the conclusions will be made public, as that decision will rest with the top DOJ official overseeing the probe. That role has been filled by Deputy Attorney General Rod Rosenstein since 2017, but his job security has been in question for months and some have speculated he and Attorney General Jeff Sessions could be ousted after the election.
Rosenstein has been urging Mueller to bring his year-and-a-half-long inquiry to a close, according to Bloomberg. He appointed Mueller to lead the FBI's Russia investigation in May 2017, after Trump fired then-FBI director James Comey.
The Mueller probe has already brought down several members of Trump's inner circle, including former national security adviser Michael Flynn and former campaign manager Paul Manafort. Trump has long been hostile to the investigation, routinely describing it as a "witch hunt" and maintaining that neither he nor his campaign engaged in any wrongdoing.
A number of known campaign contacts between the Trump campaign and Russia have become apparent, including the now-infamous 2016 meeting between Donald Trump Jr. and Natalia Veselnitskaya, a Kremlin-connected lawyer the president's son believed to have dirt on Hillary Clinton. Those episodes have appeared to be key focuses of Mueller's inquiry.
Legally speaking, it's unclear if Trump could face charges while in office if Mueller finds evidence of criminal conspiracy or obstruction of justice.
Politically, Trump's fate if Mueller concludes there was collusion or obstruction could depend on the results of voting on Nov. 6. If Republicans keep control of Congress, it's possible Trump could stay safe even if Mueller finds proof of wrongdoing; the president's allies on the right have largely been reluctant to break with him, and many have helped him in his effort to undermine the special counsel's probe.
If Democrats seize control of one or both chambers of Congress, they could attempt to impeach Trump if Mueller finds he conspired with Russia or obstructed investigators.
Much could also depend on who is overseeing the Mueller probe when he finally issues his findings. Rosenstein, who has presided over the investigation since Sessions recused himself from the matter in the opening months of the Trump administration, has appeared supportive of Mueller.
That might not be true of the person who would inherit the probe should Rosenstein or Sessions be ousted, as they could be after the midterms.
Sessions has been under attack by Trump for months, and the president has repeatedly suggested the attorney general's days are numbered. Rosenstein was widely seen as being on the chopping block in September after a bombshell New York Times report charged that he'd discussed secretly recording Trump and recruiting members of his Cabinet to invoke the 25th Amendment and remove Trump from office.
But Rosenstein disputed the Times' story, and Trump suggested in October that he has no immediate plans to fire him.
"I actually have a good relationship other than there's been no collusion, folks, no collusion," Trump told reporters on Oct. 8 of his relationship with Rosenstein. "I get along very well with him."