2018 may bring blue wave, but these 3 Democratic House seats may fall to the GOP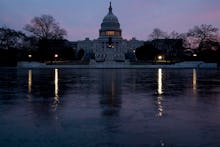 A blue wave appears to be building across the country, with the Democratic Party largely favored to win back control of the House for the first time since 2011. Yet despite the favorable wind at the back of Democratic candidates across the country, there are three Democratic-held districts at risk of flipping to Republicans come Nov. 6.
Minnesota's 1st District, Minnesota's 8th District and Pennsylvania's 8th District were all carried by President Donald Trump in 2016. Now, all provide an opening for Republicans to mitigate their House losses on Nov. 6.
Minnesota's 8th District is the most vulnerable. Rep. Rick Nolan (D-Minn.) announced in February that he will retire when his term expires in January, creating an open seat in his sprawling northeastern Minnesota district that Trump carried by a 16-point margin in 2016.
A recent New York Times/Siena College poll found a 15-point margin between St. Louis County Commissioner Pete Stauber, the GOP nominee, and his Democratic opponent, former state Rep. Joe Radinovich. In a sign that Democrats have similar data, the Democratic Congressional Campaign Committee, which seeks to elect Democrats to the House, canceled its scheduled advertising in the district. This is a move known as "triage" in the political world, and it's a bad sign for the Democratic nominee's hopes.
Inside Elections, a nonpartisan political handicapping outlet, currently rates the race a "toss-up."
Meanwhile, Minnesota's 1st District is also a vulnerable spot for Democrats. Trump carried this district by a 15-point spread in 2016, and its longtime Democratic Rep. Tim Walz vacated the seat to run for governor in the state.
Republicans nominated Jim Hagedorn, a former congressional aide who ran failed campaigns in this seat twice before, in 2014 and 2016. He's facing off with Democrat Dan Feehan, a decorated Army veteran who served two tours in Iraq.
Republicans have been running a fear campaign in the district, claiming that Feehan doesn't support the troops because he believes NFL players have the right to kneel during the national anthem.
Inside Elections also rates this race a "toss-up" — one of just two Democratic-held toss-ups on the map.
Both of those districts are open seats, but there's one Democratic incumbent running for re-election who is vulnerable to losing his seat: Democratic Rep. Matt Cartwright in Pennsylvania's 8th District.
Cartwright's district was redrawn earlier in 2018, after a court deemed the old congressional map to be an unconstitutional Republican gerrymander. Trump carried Pennsylvania's 8th by a 10-point spread in 2016, and Cartwright now has to run in new territory, winning over voters who haven't seen his name on the ballot before, which could imperil his chances at re-election.
The New York Times is polling the race, so we'll have more data soon to see how vulnerable he is. But Inside Elections rates his race a "lean Democratic" contest.
None of this is particularly new. In past wave cycles, we've seen parties that rode into power on waves lose some seats. For example, in 2014, when the GOP rode a wave to win control of the Senate and increase their House majority to near-historic levels, two Democratic candidates defeated Republican incumbents in GOP-leaning districts.
In Nebraska's 2nd District, Democrat Brad Ashford ousted GOP Rep. Lee Terry, who was dogged by bone-headed comments he made during a government shutdown in 2013. He'd said that even though a number of other members of Congress were donating their paychecks while the government was closed, he needed to receive his because he had a "nice house and a kid in college" and he couldn't handle giving his paycheck away.
Meanwhile in 2014, in Florida's 2nd District, Gwen Graham ousted GOP Rep. Steve Southerland in a Republican-leaning district on the Florida Panhandle. Graham was touted as the best Democratic recruit of the 2014 cycle by the Capitol Hill outlet Roll Call.
Both Ashford and Graham were one-term members. Graham retired after her seat was redrawn to be too Republican to win, and Ashford lost to now-Rep. Don Bacon — who finds himself in a competitive re-election in November. And both were proof that waves can, in fact, be overcome.