Twitter is exposing and archiving misleading tweets that are tampering with our politics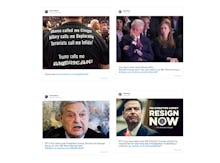 Twitter revealed on its company blog Wednesday that it has made available the tweets, media and account information they've discovered since 2016 associated with attempts to negatively impact political conversation. The social media site is offering up hundreds of gigabytes worth of content on a data archive for anyone to download for free.
Some examples include accounts claiming Trump should put George Soros on the FBI's Most Wanted list to tweets claiming police killed 68 people since Colin Kaepernick started kneeling in the NFL. These tweets from users Pamela Moore and Crystal Johnson, like other misleading accounts, have since been suspended.
"These large data-sets comprise 3,841 accounts affiliated with the IRA, originating in Russia, and 770 other accounts, potentially originating in Iran," Twitter said in a blog post. The data in total contains over 10 million tweets with data going back to 2009. The company said absolutely none of the content has been redacted.
The phenomena of fake news spreading on social media platforms reached its peak following the 2016 presidential election. Initially, companies like Facebook were quick to dismiss the idea that fake news on social media could influence an election.
More recently, companies like Facebook and Twitter have taken the role of news-sharing platform more seriously, especially in advance of the upcoming midterm elections in the United States. Facebook has promised to remove misleading news posts from fake accounts and provide added context surrounding accounts, while Twitter is looking into letting users flag fake or harmful content and will remove fake accounts from users' follow counts, to better show how influential an account actually is. Around the world, the two social media sites and Google have pledged to combat misinformation in places like the European Union.
Twitter said it hopes that researchers will examine the data to help the site in the fight against misinformation. Going forward, as the company discovers more malicious accounts, it will release data on those "in a timely fashion," Twitter said.