'The Conners' is good so let 'Roseanne' stay dead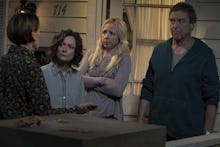 It only took Roseanne Barr two months to ruin an opportunity that — as her character in recent years confirmed — she didn't deserve. In spite of the astronomical success of the Roseanne reboot, which premiered back in March, the comedian-turned-court jester for the alt-right posted a racist tweet about Valerie Jarrett, and shortly thereafter spurred the show's abrupt cancellation. In a statement about the decision, Channing Dungey, ABC's entertainment president, said "Roseanne's Twitter statement is abhorrent, repugnant and inconsistent with our values."
Yet, the tweet was arguably not any more racist than anything else Barr posted in recent years. Many of us who were fans of the original Roseanne were conflicted about whether or not to support the revival in light of Barr's racist and xenophobic views, which ABC clearly glossed over when looking to land a major hit. For those who allowed curiosity to get the best of them, the new episodes provided a pleasant surprise.
However, it was implausible to sit and try to separate the views being expressed on the screen from the thoughts expressed in the real world by the show's face and anchor. As Roxane Gay wrote in March in the New York Times, "This fictional family, and the show's very real creator, are further normalizing Trump and his warped, harmful political ideologies." I did not immediately stop watching, but when Barr posted that tweet that led to the show's swift end, I regretted not joining Gay in her decision to boycott.
I wanted to know what the Conner family was up to, but Roseanne Barr is repugnant, and she ultimately soiled the legacy of the show. Knowing that made me apprehensive about supporting The Conners, a Roseanne Barr-less version of Roseanne that was announced in June. Not only had this experiment already blown up in the network's face, it was extremely difficult to envision the Conner family without its matriarch and visionary.
Others clearly felt differently. In an interview with Vulture, executive producer Tom Werner, whose company produced both Roseanne and The Conners, said, "Roseanne was obviously extremely important to the show. But John Goodman was always equally important. And the children provided a lot of storylines."
Regardless of Roseanne's title, Werner noted, "I've always thought the show was about the Conner family."
Werner's point has been made on the series premiere of The Conners, which aired on ABC on Tuesday. No one would fault a person for being suspicious of a revival of a revival, but its debut was essentially everything one loved about Roseanne without having to think about the awfulness of Roseanne Barr. It manages to keep the spirit of Roseanne and Roseanne Barr as many of us once knew her, without her being physically present. Consider myself slightly shocked.
The premiere doesn't waste any time addressing the death of Roseanne Conner, either. (And neither did Roseanne Barr, but the less said about her at this point, the better.) The character's dead from an opioid overdose and the family reacts to it exactly as longtime viewers would expect. The Conners' mourning is handled with a thoughtfulness and a tenderness, but this is also a sitcom, so there are laughs sprinkled throughout the proceedings. When Becky finds Roseanne's pain pills and they're snatched away by an angry and grieving widower, Becky quips, "Damn. That's the only thing from mom's closet I wanted."
You hear jokes like that all over the half hour. Death is painful to deal with, but it's nice to see a realistic portrayal of the various emotions and reactions that many families go through when dealing with a loss. Part of that means people in the family stepping up to fill vacant roles. And, in the case of the Conners (and The Conners), that means Sara Gilbert's Darlene assuming the part of matriarch.
Admittedly, I need to better prepare for that shift. Darlene is not Roseanne and though Sara Gilbert is quite talented, she's not Roseanne Barr. Then again, Roseanne Barr is not Roseanne Barr anymore, hence where we are now. Darlene looks to be a focal point in the previews of future episodes, so I'll get used to it. Darlene used to be one of the best aspects of the old show, anyway.
And therein lies the success of the premiere of The Connors: I actually care enough to want to watch more; we don't need Roseanne anymore.
Aside from appreciating the way the show tackled death and addiction with wit and nuance, I really loved the B plot between Dan Conner and his gender-experimenting grandson, Mark Conner-Healy. Mark's character was one of the more intriguing aspects of the Roseanne reboot and the writers build on that with The Conners. To see Dan, a grandfather, and Mark, a grandson, talk about Mark's same-sex crush with levity and love was a reminder of what I appreciated about Roseanne to begin with. Although the queer characters on Roseanne never looked exactly like me, it still meant something to see them and it was still important to watch a network comedy tackle same-sex attraction.
The show can continue to build on that, and thanks to Roseanne Barr's departure, they can do so without deserved calls of hypocrisy. Ultimately, I wish this show never came back with Roseanne Barr to begin with, but the reality is that it would have never happened that way. Likewise, had Roseanne Barr simply given her Twitter password to someone who cared about her, she'd probably still be a bigot everyone turned a blind eye to because she commands big ratings.
Some folks may still never want to have anything to do with The Conners again as a result of that. It's a sentiment that's easy to understand, but for those who genuinely loved Roseanne and want to keep up with the fictional family at the heart of it, The Conners is worth watching. Roseanne Conner is dead and Roseanne Barr is dead to me, but at least this show seems to be able to capture what made both versions of Roseanne such endearing figures — even if the woman behind them no longer can.