Another reason Trump won't stand up to Saudi Arabia? They're central to his plan for Iran.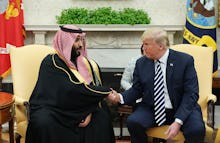 President Donald Trump is defending Saudi Arabia amid charges that the regime brutally tortured, killed and dismembered a dissident journalist, comparing the growing furor over the presumed killing to the backlash his Supreme Court Justice Brett Kavanaugh faced in September when accusations of sexual assault threatened to derail his confirmation.
"I think we have to find out what happened first," Trump told the Associated Press on Tuesday of the alleged killing of Washington Post contributor Jamal Khashoggi. "Here we go again with, you know, you're guilty until proven innocent. I don't like that. We just went through that with Justice Kavanaugh and he was innocent all the way as far as I'm concerned."
Khashoggi was last seen Oct. 2 entering the Saudi consulate in Istanbul. Turkey says the Saudi regime was behind the disappearance, but Trump has appeared to accept the government's denials — despite pressure from both Democrats and Republicans on Capitol Hill to hold the country accountable.
Many have suggested that Trump's reluctance to punish Riyadh stems from his business ties to the Saudi government, which have netted him millions of dollars over the years — despite his insistence to the contrary on Tuesday. But there may be another big reason Trump is taking such a permissive stance on Saudi Arabia: the country plays an important role in his administration's pressure campaign in Iran.
Trump has charted a far different course on Iran than former President Barack Obama, who sought to curb the country's nuclear program by easing sanctions under the landmark Joint Comprehensive Plan of Action in 2015. Trump's opposition to the Iran deal formed a key part of his foreign policy pitch agenda during the 2016 campaign, and he withdrew the United States from the multilateral accord in May, arguing that it was ineffective and that Tehran had not adhered to its terms.
He has since traded threats with Iranian President Hassan Rouhani, bashed the government and leveled what he called "biting" sanctions against it. That pressure campaign is likely to escalate in the coming weeks, when the Trump administration is expected to continue to aggressively target Iran's oil market.
That scheme will rely on Saudi Arabia, whose continued oil production will be necessary to offset the Iranian oil exports the U.S. is seeking to block. According to the New York Times, the U.S. has closely coordinated with the Saudis on its policy in Iran, which the Trump administration has cast as the main instigator of "violence, bloodshed and chaos" in the Middle East.
As the Times noted Tuesday, that message has been complicated by the presumed grisly assassination of Khashoggi, which has heightened scrutiny of the longstanding relationship between the U.S. and Saudi Arabia — a notorious abuser of human rights.
The U.S. has maintained a frequently uneasy partnership with Saudi Arabia for more than seven decades, including under Trump's two immediate predecessors: Obama and George W. Bush. As one of America's chief allies in the Middle East, Saudi Arabia has been a major source of foreign oil for the U.S. and a key partner in American policy in the region, particularly as it it pertains to Iran — one of Saudi Arabia's major regional rivals.
The U.S. has forgiven or ignored a good deal of malign behavior from the Saudis in the name of that relationship. The repressive Saudi regime routinely abuses human rights, according to Human Rights Watch — including in its current brutal intervention in the conflict in Yemen. It has also been alleged that the Saudi government played a role in supporting the Sept. 11, 2001, terrorist attacks on the U.S.; 15 of the 19 attackers were from Saudi Arabia.
Despite the human rights concerns, both Democratic and Republican politicians in the U.S. have largely retained their support for Saudi Arabia. Trump, though, appears to have taken that relationship to a new level.
The president, who has previously bragged of his strong business ties to Saudi Arabia, visited the kingdom in his first foreign trip as president. His son-in-law and senior adviser, Jared Kushner, a major player in the administration's dealings with the Saudi government, is said to have become close with Saudi Crown Prince Mohammed bin Salman — so much so, perhaps, that Salman has reportedly bragged that the senior Trump staffer is "in his pocket."
It's perhaps no surprise, then, that Trump seems so willing to take the Saudi regime's word for it when they deny assassinating Khashoggi — even when some of his closest allies on Capitol Hill don't.
"Just spoke with the Crown Prince of Saudi Arabia who totally denied any knowledge of what took place in their Turkish Consulate," Trump tweeted Tuesday. "He has already started, and will rapidly expand, a full and complete investigation into this matter. Answers will be forthcoming shortly."