Florida Supreme Court strikes down Rick Scott's plan to pack courts with conservative justices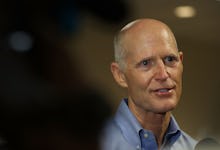 Florida's Supreme Court on Monday struck down a plan by outgoing Gov. Rick Scott that would have ensured that Republicans maintained control of the state's courts for years to come.
Under Florida's state constitution, three of the court's seven justices are approaching age limits that would end their terms on Jan. 8 — the same day the state's next governor is expected to be sworn in at noon.
It had been widely expected that the task of appointing the replacement justices would fall to Florida's next governor, since Scott's term would have officially ended — until, in 2016, Scott announced that he himself would name three successors "on the morning I finish my term."
The move was, essentially, an attempt by Scott, who is running a campaign for Senate, to shore up power that he would technically no longer have in the state — and activist groups weren't having it.
In response to the unexpected declaration, the League of Women Voters in 2017 filed suit against Scott in hopes of blocking his plans. In December, the court ruled that the lawsuit was premature on the grounds that Scott had not yet taken formal action in seeking replacement justices. After he officially filed paperwork directing Florida's Judicial Nominating Commission to begin the application vetting process in September, however, the League of Women Voters revived the suit.
On Monday, Florida's Supreme Court ruled against Scott, writing that the "governor who is elected in the November 2018 general election has the sole authority to fill the vacancies."
The ruling is considered a win for Andrew Gillum, the progressive gubernatorial candidate, who is currently running as the Democrat in a hotly contested race to succeed Scott.
"I am pleased the Florida Supreme Court has brought closure to this important issue finding, as we have consistently stated, that the next governor of Florida will appoint the next three Supreme Court justices," Gillum said in a statement. "It is a duty I take extremely seriously and, as governor, one of my top priorities will be to restore integrity to the judicial nominating process."