Javier Bardem calls Woody Allen a "genius," says he would work with him again "tomorrow"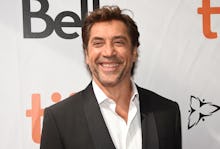 A growing number of actors have come forward to say they will no longer work with alleged abuser and prolific director Woody Allen — including Peter Sarsgaard, Colin Firth, Greta Gerwig and Michael Caine. But Oscar winner Javier Bardem is not among them. The Spanish actor expressed his continued support for Allen while speaking Monday at the Lumière Film Festival in Lyon, France, Variety reported.
Bardem, who worked with Allen for his 2008 film Vicky Cristina Barcelona, told the audience that Allen is "a genius," and he "would work with him tomorrow," Variety reported. That puts him at odds with his Vicky Cristina Barcelona co-star Rebecca Hall, who worked with Allen on another film before she announced in January she would not work with him again and planned to donate to the Time's Up campaign.
Allen has been accused by his daughter, Dylan Farrow, of molesting her in 1992, when she was 7 — accusations she's repeated multiple times, including in an open letter published in the New York Times in 2014.
In an interview in January with Gayle King of CBS This Morning, Farrow said she wished Allen had been charged for the alleged assault and that she had taken the stand against him in a trial. "I do wish that they had, you know, even if I'm just speaking in retrospect," she told King. "I was already traumatized ... Here's the thing. I mean, outside of a court of law, we do know what happened in the attic on that day. I just told you."
Speaking to the crowd in Lyons on Monday, Bardem brought up the fact that Allen had never been found guilty of assault, HuffPost reported. "If the legal situation ever changes, I'd change my mind," he reportedly said. "But for now I don't agree with the public lynching that he's been receiving."
This isn't even the first time that Bardem has publicly defended Allen. Back in April, he told the French publication Paris Match that, "If there was evidence that Woody Allen was guilty, then yes, I would have stopped working with him, but I have doubts," HuffPost reported at the time. In the same interview, he lamented what he seemed to think is a divide influenced by the#MeToo movement.
"Today, we have the impression there are men on one side and women on the other, which sends a very bad message to the younger generation," he said.