Beto O'Rourke and Ted Cruz debate gets testy as challenger goes on attack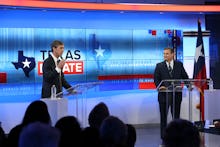 The closely watched Texas Senate race between current Sen. Ted Cruz and challenger Rep. Beto O'Rourke came to a head Tuesday night, as the two candidates sparred during their second Senate debate.
O'Rourke's fight to become the first Democrat elected statewide in Texas in 24 years has drawn national attention and a massive fundraising haul; the current U.S. representative took in $38.1 million in grassroots donations in the third quarter of 2018 alone.
Still, Cruz continues to lead O'Rourke in the polls and the incumbent senator has earned the support of President Donald Trump in a state the president won by nine points. Trump reiterated his support Wednesday morning, tweeting that Cruz had his "strong endorsement" while decrying O'Rourke as a "flake."
After a more tepid showing by Beto O'Rourke during the candidates' first debate, which the New York Times speculated could have helped widen Cruz's lead in recent polls, O'Rourke was quick to go on the attack against Cruz Tuesday. The congressman told viewers to "follow the money" when it comes to Cruz's Senate record, alleging that his votes are tied to Super PAC donations, and highlighted the moniker that Trump once gave to Cruz: "Lyin' Ted."
"Senator Cruz is not going to be honest with you," O'Rourke said. "He's going to make up positions and votes that I never held or have ever taken. He's dishonest. That's why the president has called him Lyin' Ted and it's why the nickname stuck — because it's true."
O'Rourke also hit back at Cruz after the senator pointed to O'Rourke's support for impeaching Trump to suggest O'Rourke's Senate tenure would spark a "partisan circus."
"Really interesting to hear you talk about a partisan circus after your last six years in the U.S. Senate," O'Rourke responded, which was met by laughter from the debate's studio audience.
Cruz, for his part, seemed to take these attacks in stride.
"It's clear Congressman O'Rourke's pollsters have told him to come out on the attack, so if he wants to insult me and call me a liar, that's fine," Cruz said. "But, you know, John Adams famously said, 'Facts are stubborn things.'"
While he may have kept his cool with O'Rourke, however, the incumbent senator did lose his composure in an exchange with moderator Jason Whitely. When Whitely interjected during one of Cruz's responses, the senator quickly snapped, "Don't interrupt me, Jason," before continuing a response that stressed the importance of "treating each other with respect" and "civility."
The debate also highlighted the stark policy differences between Cruz, a Tea Party Republican, and O'Rourke, whose policies are largely in line with more progressive Democrats. When asked about immigration, Cruz noted that "there's no race in the country with a starker divide on immigration than this race here," highlighting his endorsement from the National Border Patrol Council and his support for border security policies such as a wall between the U.S. and Mexico.
O'Rourke, who represents the border city of El Paso, stressed that "no wall is going to solve legitimate security issues, but smart policy will," and criticized his opponent for not supporting a path to citizenship for recipients of the Deferred Action for Childhood Arrivals program.
"Ted Cruz has put his career above the interests and priorities of Texas," O'Rourke said. "Ted Cruz is for Ted Cruz." 
On the question of women's rights, Cruz highlighted his support of the #MeToo movement, which he said has done "an incredible amount of good for our country."
"I believe everyone, women and men, girls and boys, need to be protected," Cruz said, though O'Rourke pointed out that the Texas senator voted against the Violence Against Women Act.
Cruz's support of women's rights did not extend to reproductive rights, as the senator highlighted his anti-abortion stance and criticized O'Rourke's "extreme record on abortion."
In his response, O'Rourke emphasized the need for judges who would protect civil rights in the wake of the widely criticized confirmation of Justice Brett Kavanaugh to the U.S. Supreme Court, including a woman's right to choose.
"I will only vote to confirm a Supreme Court justice who believes in a woman's right to make her own decisions about her own body and who has the health care access to be able to do so," O'Rourke said.
The issue of health care access beyond reproductive health was also a contentious topic. Cruz decried the "Medicare for All" plan that O'Rourke has shown support for, saying the policy would be prohibitively expensive.
O'Rourke pushed for health care moves such as expanding Medicaid and criticized Cruz's support for repealing the Affordable Care Act. The congressman highlighted Cruz's role in the 2013 government shutdown over the ACA, saying the senator "shut down the government for 16 days perhaps because he thought too many people had too much health care."
Despite the contentious discourse that marked much of the debate, however, both candidates ended Tuesday night on an uplifting note, highlighting the hope they believe their candidacies represent. Cruz pointed to his candidacy as a way to "[keep] the boom going" and spoke about his father's immigrant journey from Cuba, while painting O'Rourke's views as a "fear"-based platform.
"Elections are about who we are," Cruz said. "Do we choose fear, or do we choose hope? I believe in hope."
In his closing statement, O'Rourke centered on the United States' "power of inspiration." The congressman said the country is "in desperate need right now of inspiration," going on to share how the people of Texas had personally been an inspiration to him in his Senate fight.
"Traveling the state of Texas, meeting people regardless of their walk of life, their background, their party affiliation — you have inspired me," O'Rourke said. "You have inspired me to transcend the obstacles, to be the big, courageous, bold, strong match for this moment on any issue that challenges us."