Buying Apple's iPhone XR Friday? Here's how to get your pre-order in before everyone else.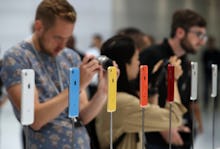 Apple has announced details surrounding the launch of the iPhone XR. On Friday, people who want a new phone but don't want to buy the more expensive iPhone XS can opt for the cheaper, more colorful XR option.
While Apple's top of the line iPhone XS starts at $999, the iPhone XR starts at $749. While still pricey for a phone, it's the cheapest iPhone Apple has released without a home button, allowing more space for a bigger screen. In a blog post, Apple revealed that the phone will go on sale at 3:01 a.m. ET on Friday.
There are simple steps purchasers can take to beat the competition.
If you own an iOS device, you already have a leg up on the competition. Apple offers an Apple Store app (not to be confused with the App Store app) to buy its products. The app allows users to more quickly purchase items within Apple's store.
For one, the app ties into your Apple account, meaning your credit card details are already entered. You can confirm this by tapping on the silhouette in the top right of the app and entering your password. When it comes time to purchase, the app lets you purchase via Apple Pay with a quick fingerprint or face scan.
Additionally, you can use the app's "Favorites" feature to check out quicker as well. When you reach the purchase screen, the app requires you to choose your phone carrier, and storage size and color preferences. All these details can be selected in advance. When 3:01 a.m. ET hits, simply tap the silhouette icon in the top right and it will surface your favorited iPhone.