Treasury official arrested on charges of disclosing information about Manafort, others to media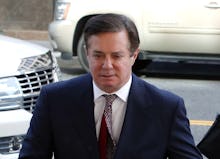 A senior official in the Treasury department's Financial Crimes Enforcement Network has been arrested for allegedly disclosing suspicious activity reports on Paul Manafort, Rick Gates and others to the media.
Natalie Mayflower Sours Edwards, a senior FinCEN official, was charged Tuesday with unlawfully leaking the confidential reports, according to a criminal complaint filed by the United States attorney's office for the Southern District of New York made public Wednesday.
The official allegedly provided the information on Manafort, Gates, Maria Butina, the Russian embassy and Prevezon Alexander to BuzzFeed News, according to multiple reports.
The figures and entities in question have been ensnared in investigations into Russia's interference in the 2016 U.S. election.
Manafort, the former Trump campaign chairman, was convicted in August on eight bank and financial fraud charges stemming from Robert Mueller's FBI probe. Gates, Manafort's former deputy, pleaded guilty to Mueller in February and cooperated with the special counsel's team against his former boss.
Butina, a suspected Russian spy who had been seeking to build ties between the Kremlin and the GOP, was indicted by the Department of Justice in July and accused of "conspiracy to act as an agent of a foreign government."
Edwards, 40, provided the classified SARs to a news organization identified as BuzzFeed for "approximately 12 news articles" over the course of a year, according to authorities.
The case appears to be the latest in the Trump administration's crackdown on government leakers, whom the president has bemoaned as "traitors and cowards" looking to make his administration "look as bad as possible."
The first whistleblower to be prosecuted by the administration amid the crackdown, former government contractor Reality Winner, was sentenced to five years and three months in prison in August for leaking classified information to the Intercept about the Kremlin's attempts to hack into a Florida-based voting software company.
That sentence was the longest ever to be leveled against an individual for leaking information to the media.
Edwards is facing charges of unauthorized disclosures of SARs to the media and conspiracy to disclose SARs. Both charges carry up to five years in prison.