Mic Daily: Beto O'Rourke's and Ted Cruz's debate gets heated — and other news of the day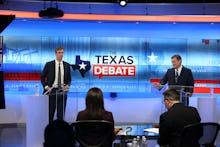 Good evening folks, and happy Wednesday. As always, I'm here to be your guide through Mic's top five stories of the day. Here we go.
Ahead of the November midterms, seemingly the biggest topic on everyone's minds is the impending "blue wave" — whether Democrats will be able to win back a majority in Congress. Democratic candidates certainly have the momentum to win back a number of key seats, but that success likely won't be universal across both the House and Senate.
Mic reporter Emily Singer has identified three races in which Democratic seats might actually fall back to the GOP.
Recently, President Donald Trump has been defending Saudi Arabia, despite reports that it tortured and killed dissident journalist Jamal Khashoggi. Some have theorized Trump is going easy on Riyadh because of Trump's business ties to Saudi Arabia, but Mic writer Eric Lutz has another theory: The country has an important role in his plans for Iran.
In their second Senate debate ahead of the November midterms, Rep. Beto O'Rourke and Sen. Ted Cruz traded spicy jabs at one another throughout the night.
"Senator Cruz is not going to be honest with you," O'Rourke said. "He's going to make up positions and votes that I never held or have ever taken. He's dishonest. That's why the president has called him 'Lyin' Ted,' and it's why the nickname stuck — because it's true."
In a blog post published Wednesday, Twitter made public the tweets, media and account information associated with attempts to influence the conversation surrounding the 2016 presidential election. The information includes more than 3,000 accounts originating in Russia, and more than 10 million tweets dating back to 2009.
Since the rise of the modern #MeToo movement, a number of actors have come forward to say they would no longer work with Woody Allen, who has been accused of sexual misconduct. Javier Bardem, one of the stars of Allen's 2008 film Vicky Cristina Barcelona, is not one of those people.
Mic Daily is Mic's newsletter that cuts through the noise and lands in your inbox every weekday. We carefully curate each edition to send you a cross section of our most vital stories of the day.