Hype Daily: Anthony Rapp on his allegations against Kevin Spacey and other entertainment news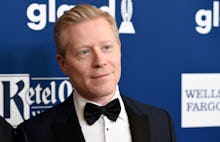 Good morning, beautiful readers! Today is Thursday and you know what that means — time for another piping-hot edition of Hype Daily. Let's get down to business.
Anthony Rapp spoke about Kevin Spacey a year after going public with his allegations
Almost a year after coming forward with allegations that Kevin Spacey made a sexual advance on him when he was 14, actor Anthony Rapp spoke to BuzzFeed News again about seeing other alleged victims come forward and where male victims fit into to the #MeToo landscape. Rapp said that when he first decided to go public, he was nervous about the backlash — what he didn't anticipate was the flood of support he received.
He also didn't anticipate how quickly Spacey himself would face repercussions as alleged victims began to come forward. "I knew that House of Cards was in production," Rapp told BuzzFeed News. "So, I was just curious, what's going to happen on the set? Like, how's that going to be? I did not think they were going to shut down."
As to whether he would talk to Spacey face-to-face, Rapp said he'd consider it. "I guess I'd have to really think about the circumstances and the environment and the safety factor," he said. "I mean, potentially. I wouldn't rule that out. I would need him to fully own what he did. Not just to me, but to so many people."
Nathan for You isn't coming back, sorry
Comedy Central has confirmed the surreal comedy docu-series Nathan for You is over for good, and that it will not be returning for a fifth season, the AV Club reported on Wednesday. The network released a statement saying, "[Fielder's] innovative and quick-witted humor has made the show a comedic touchstone and we're proud to have been a part of it. We respect Nathan's decision to [end] the series and look forward to geeking out over his next project."
Nathan for You starred comedian Nathan Fielder as the world's worst business adviser, roping unsuspecting business owners into bizarre schemes. His deadpan delivery and the true weirdness of the series made it a cult classic — if you've never seen the show, check out a clip here.
The showrunner of The Conners explained why they killed off Roseanne like they did
The new show The Conners premiered this week to surprisingly positive reviews, and by now you've probably heard Conner family matriarch Roseanne (played by Roseanne Barr) was revealed to have died of an accidental opioid overdose. Of course, the real reason for the character's death was Barr's racist tweets and offscreen behavior, but in the fictional world of the show, her death was a big blow to the family.
On Wednesday, The Conners showrunner Bruce Helford penned a piece in the Hollywood Reporter about why, exactly, they decided to kill off the character of Roseanne in the way they did. "We knew we had to explain Roseanne's disappearance from the show definitively but also set up the other characters in a way where they could move on," Helford wrote.
"There was a lot of chatter in the ether about how we should explain Roseanne's absence: Should she have a sudden heart attack, a mental breakdown or go off into the sunset on a boat with her son Jerry Garcia? But back in the writers room, we firmly decided against anything cowardly or far-fetched, anything that would make the fierce matriarch of the Conners seem pathetic or debased." And, Helford said, her death had to feel permanent. Read his whole piece here.
Are You There God? It's Me, Margaret is finally becoming a movie
The classic novel Are You There God? It's Me, Margaret, that ultimate tween staple, is finally becoming a movie, the Daily Beast reported on Wednesday. The book, from puberty-master Judy Blume, follows a girl through the normal uncertainty, confusion and joy of growing up and trying to figure out what it means to be a woman.
Blume has apparently been rejecting movie bids for years, but she finally agreed to give the rights to two of the producers behind the delightful 2016 film The Edge of Seventeen. No word yet on whether the film will be set in the present day or back when the book was first published in 1970.
Put this on your radar: Salt Fat Acid Heat
If you love cooking shows, travel shows or gorgeous images of food being made and eaten by people who love food, you should definitely check out the new Netflix show Salt Fat Acid Heat. The four-episode travelogue follows chef Samin Nosrat as she joyfully eats, learns and journeys through the four essential elements of food. Nosrat's love of the craft of eating is totally evident, and it makes the show incredibly fun to watch. Check out a trailer here.
This has been Hype Daily, Mic's morning entertainment roundup. It's everything you need to catch up on in the entertainment world and what to look forward to today. Want to receive this as a daily email in your inbox? Subscribe here.