Diesel's new "faggot" jacket caused fervent backlash. Does the context of why they made it matter?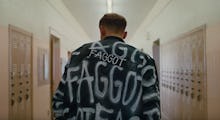 A Diesel jacket with the word "faggot" displayed in graffiti-like font all across it has caused an uproar over its prominent use of the anti-gay slur.
The jacket is featured in the brand's new Hate Couture line, part of its new anti-cyberbullying campaign featuring Nicki Minaj, Gucci Mane and Tommy Dorfman (no, Melania Trump is not involved). The tagline for the campaign: "The more hate you wear, the less you care." But if the intention is unknown to the casual viewer, is the reclamation a failed pursuit?
"No, Diesel. Wearing a derogatory word scrawled all over your back is not the way to combat hate," actor Andrew Hayden-Smith wrote on Twitter.
"Popularizing the word 'faggot' isn't the way forward," one Twitter user wrote.
"I know what Diesel are trying to do, but I feel they are failing spectacularly with this," wrote author James A. Lyons. "I find it a bit uncomfortable."
The jacket (which appears on the brand's British site, but not the U.S. site) is crafted from "shiny technical satin" and retails for £350 ($458). In addition to the "faggot" jacket, is a "slut" T-shirt for women.
In the brand's accompanying campaign video, Dorfman can be seen walking down a hall in the jacket. Dorfman responded to Hayden-Smith's tweet, writing: "All proceeds from this jacket are benefitting the Ali Forney Center in NY which provides shelter, food and programs to homeless LGBTQ+ youth."
But a question remains: Should a global brand like Diesel be spearheading attempts to reclaim power for those who have been denied it?
"I don't think Diesel gets to 'reclaim' this term for our community," queer author Phil Stamper wrote on Twitter. "It's still pretty divisive, and brings up a lot of trauma for queer people."
In a follow-up interview with Mic, Stamper added further context: "I'm not here to police how marginalized communities use the word faggot, or give guidelines to how they can use it. But a corporation doesn't get to lead that effort. It makes me think back to the early 2010s, when the SlutWalks started happening. Women got to reclaim the slur and use it to confront rape culture, and I thought that was fantastic — but it wasn't led by a corporation, and if it was, it would have been suspect at best."
In a statement to Mic regarding the controversy, Diesel had this to say: "Our aim has always been to disempower those that create the hate and manifest negativity. Every individual cast within the campaign relates personally to the issue itself. To bring awareness to the wider issue, each chose a phrase that they wanted to wear proudly with the goal of empowering others to take a stance. Together, Diesel and Tommy Dorfman use this as a platform to disempower the haters and show the more hate you wear, the less you care."
Oct. 18, 2018, 1:30 p.m.: This post has been updated.