Trump threatens to send US military to Mexico border in fiery immigration rant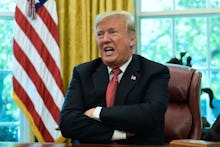 President Donald Trump on Thursday threatened to deploy the United States military to "CLOSE OUR SOUTHERN BORDER" over undocumented immigration from Mexico.
The threat came in a series of angry tweets about immigration in which he also warned that he could stop funding to Guatemala, Honduras and El Salvador, and again falsely accused Democrats of wanting "open borders" and "weak laws."
"The assault on our country at our Southern Border, including the Criminal elements and DRUGS pouring in, is far more important to me, as President, than Trade or the [United States-Mexico-Canada Agreement]," Trump wrote. "Hopefully Mexico will stop this onslaught at their Northern Border."
It was the second time in six months that Trump suggested the possibility of military action to curb immigration at the U.S.-Mexico border. In April, he said in a meeting with foreign leaders that the U.S. is "going to be guarding our border with our military."
"That's a big step," he said at the time.
But what he had appeared to propose was not quite legal. As USA Today noted in April, the military is "generally" barred from performing domestic law enforcement functions.
He instead deployed the National Guard to the border.
Mexico in April pushed back on Trump's threats and rhetoric, with Mexican President Enrique Peña Nieto saying in a video statement on Twitter that "We're not going to permit that negative rhetoric to define our actions."
Trump is renewing his threat, though, as a caravan of migrants from Honduras makes its way north toward the U.S. border. It also comes as he seeks to mobilize his base ahead of November's midterm elections by portraying Democrats as aiding an "assault on our country" on immigration.
"All Democrats fault for weak laws!" Trump tweeted Thursday.
In his Twitter rant Thursday morning, Trump also implied that he could blow up the pending USMCA treaty — the so-called "historic transaction" with which he plans to replace the North American Free Trade Agreement.
Trump's threats over immigration came a day before Secretary of State Mike Pompeo is due to travel to Mexico City for meetings with Mexican leaders.
According to the State Department, Pompeo's visit Friday will focus on the USMCA, immigration and the transition from the Peña Nieto administration to the incoming Andrés Manuel López Obrador administration. López Obrador, the president-elect, will take over Dec. 1.
Trump spoke with the incoming Mexican president earlier this month and claimed that "we will work well together."