A look into Facebook's fake news "War Room" reveals the company's plans to tackle misinformation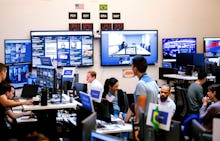 Facebook wants to share the status of its efforts to end the spread of misinformation on its platform.
Many have blamed algorithms and filter bubbles on social media for showing users only the news they want to see, whether that news is factual or fake. Yet in 2016, Facebook CEO Mark Zuckerberg wasn't convinced that the information users consumed on the site had any type of effect on the presidential election. Fast forward to two years later and the company has an entire team dedicated to curbing posts on its platform that could be considered misleading.
Facebook recently invited journalists from the Associated Press, Wired, the Verge and more to the room in its Menlo Park, California, campus where these decisions happen. Facebook calls this "the War Room."
We've seen Facebook highlight various measures it's taken to filter out misinformation — among them, letting users report fake news on their own, and updating community guidelines to lay out what's allowed on the site. But now that Facebook has let the public into its fake-news war room, we have a better idea of how they're trying to keep users honest.
A wide swath of Facebook folks are working on this
On Oct. 17, Twitter highlighted all of the fake news posts it'd discovered since 2016, letting the public download all of the false posts it had spotted. Now it's Facebook's turn.
The War Room, set up a month ago, contains representatives from various teams across Facebook — 24 teams, to be exact. The Verge notes that the teams represented include threat intelligence, engineering, communications and more. According to a Facebook spokesperson, the folks in the war room represent 20,000 people within the social media giant.
This affects WhatsApp and Instagram too
Many still don't know that Facebook owns Instagram and WhatsApp, too. These social apps also see representation inside Facebook's War Room. And rightfully so: Instagram, for example, has had its own battle against fake news. Facebook has taken steps to provide transparency with tools like "About This Account," to surface details like when the Instagram user joined, what country they hail from and their former usernames.
As for WhatsApp, Facebook appointed a grievance officer to address fake news on the platform in India. The same isn't exactly true in other countries. Residents of Brazil, for example, continue to withstand false stories on the messaging service. Addressing problems like these, from countries all over the world, are part of the challenge the War Room faces.
This is meant to affect politics worldwide, not just in the U.S.
Facebook's efforts to defeat fake news span its various products as well as various countries. The unveiling of Facebook's War Room is conveniently timed, as it will likely buy the company some good press ahead of the U.S.'s Nov. 6 midterm elections. Press tours aside, hard work lies ahead for Facebook elsewhere in the world: Brazil's elections will happen before those in the U.S., on Oct 28.
With this in mind, Facebook will expand the operating hours of its War Room. Currently active for 20 hours a day, on Oct 23 the room's efforts will expand to 24 hours per day, five days before Brazil's elections.
Once these elections are through, it's unclear how long the War Room will be around. Facebook executives told Wired that it wouldn't commit to the War Room strategy beyond the midterm elections.