The Amber Rose SlutWalk calls attention to voting ahead of midterm elections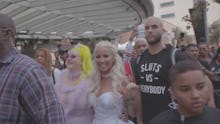 The Amber Rose SlutWalk was launched as an inclusive space to raise awareness about slut-shaming, domestic violence, sexual assault and gender inequality in 2015. The 2018 march, held in downtown Los Angeles, paid special attention to mobilizing participants to vote in the forthcoming midterm elections.
Mic Dispatch correspondent Yoonj Kim attended the daylong festivities to find out why it was important for Rose to mobilize new voters this election season.
"You know I never really looked into voting, besides like a presidential vote," Rose said on Saturday's episode of Mic Dispatch. "So now that I'm older and I see all these things happening and I see all the sexual predators in office and how marginalized groups are targeted constantly, I'm more aware of those things now, so now this is why I wanted to bring it to my SlutWalk."
Rose partnered with the Hip-Hop Caucus, a nonprofit organization that promotes political activism for young U.S. voters through hip-hop music, to register new voters at the SlutWalk.
"We partnered with Amber to specifically hone in on why all women and anyone who cares about women should be voting this election," Liz Havstad, the chief operating officer and executive director of the Hip-Hop Caucus, said. "And we came up with 10 reasons why to come out and vote — from sexual violence and rape culture to immigration to student loans."
Informing Americans about what's at stake during midterm elections is important part of mobilizing them to cast their ballots, as 40 million people who voted in the presidential election are not expected to show up for the midterm elections, according to a 2017 report from the Voter Participation Center and Lake Research Partners. And two-thirds of those "drop-off" voters will likely be millennials, people of color and unmarried women.
One SlutWalk attendee, Reddea McMillan, is a survivor of sexual assault who is ready to head to the polls on Nov. 6. "We just want change right," McMillan said. "And I don't think it's an outrageous demand either for us not to get our ass grabbed."
Ultimately, Rose hopes the SlutWalk can be part of empowering marginalized groups in a political climate that looks to silence them.
"That's why the midterms are so important, because we can make a change, we can make a difference," Rose said. "I'm not going to let Kavanaugh or Trump dictate how I live my [bleeped] life, what I do with my body, and unfortunately things like this are going to happen and that's why SlutWalk is so important to protest against that."
Check out episode 30 of Mic Dispatch — only on Facebook Watch.
To catch future episodes of Mic Dispatch, follow Mic Dispatch on Facebook Watch. For more stories about the show, visit the Mic Dispatch collections page.