The Movement Must-Reads: Saheed Vassell's family seeks justice and a look at Beto O'Rourke's rise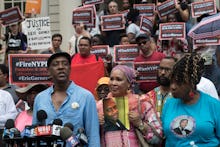 This week's newsletter covers police shooting victim Saheed Vassell, the blatant contradiction between what first lady Melania Trump wears and says and an exclusive Mic Dispatch interview with Texas state Rep. Beto O'Rourke, who ran for Senate in the midterm elections.
Read on for more.
From Mic:
Chauncey Alcorn with an update on the case of Saheed Vassell, a black man who was shot and killed by NYPD officers in April. The family wants answers on why the officers behind his killing haven't been disciplined yet.
Alcorn also on the firing of Hilary Brooke Mueller, a St. Louis woman who tried to prevent D'Arreion Toles from entering his apartment complex.
Mic Dispatch correspondent Aaron Morrison flew to Texas to capture the growing support around Rep. Beto O'Rourke, a progressive former candidate for Senate. Immigration, the U.S. criminal justice system and legalization of marijuana are some of the issues he's been vocal about.
Evan Ross Katz writes about the irony of first lady Melania Trump wanting the media to focus on her actions and not her clothing, given the messages she's sent with her wardrobe choices in the past.
From elsewhere:
Teen Vogue interviews Ferguson, Missouri, protester and filmmaker Cami Thomas, whose docuseries Smoke City uncovers modern-day segregation in Missouri.
A deep dive from the New Yorker on the complexities of the Harvard University affirmative action lawsuit brought by Asian-American activists.
An essay on why the Republican Party is suppressing black voters from Rolling Stone.
Until next week,