The Mega Millions jackpot is almost $1 billion. Here's how previous winners handled all that cash.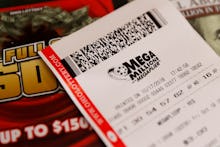 Who wants to be a millionaire? How about an almost billionaire? The possibility is dangling out there this week, as the Mega Millions jackpot currently sits at a staggering $970 million. The amount has been steadily growing since the last winner was drawn on July 24; the next chance to win is this Friday, Oct. 19. It's the second-biggest lottery prize in American history, and, of course, if no one wins this week, it only stands to get bigger.
The record-holder for the largest lotto win in history, which was pulled in January 2016, is $1.586 billion. The windfall was shared by three couples: John and Lisa Robinson of Tennessee, Marvin and Mae Acosta of California and Maureen Smith and David Kaltschmidt of Florida. All three had the option to get paid out a larger number over the next few decades, or a smaller amount in a lump sum, and all three opted for the latter. All three chunks were around $327.8 million, before taxes.
What winners do with all that money
What happened to those three couples? They had the option to disappear into happy oblivion, or start hanging out on yachts off Ibiza. Again, all three seemed to tilt in the same direction.
In an appearance on the Today show immediately following their win, the Robinsons swore they'd continue to work their full-time jobs. "You just can't sit down, lay down and not do nothing anymore," John Robinson said. "How long you going to last?" The couple also planned not to buy a new home, but just to pay off the mortgage on their current one, as well as finish off their daughter's student loans.
That proposed modesty didn't last too long: Within a few months, the Robinsons bought a 10-bedroom house with a home theater and its own private lake.
Smith and Kaltschmidt remained in their small Melbourne Beach, Florida, ranch house, opting only to upgrade their cars — Smith now drives a Tesla valued around $90,000. When a reporter from the Daily Mail followed the couple around for a bit last summer, the couple was photographed taking out the trash and shopping at the same grocery store, Publix, where they bought their winning ticket. In fact, an employee at Publix said that the lucky pair still buy lotto tickets occasionally. "I guess it's just for fun — it's not as if they need the money," the staffer told the Mail.
The Acostas were the most tight-lipped couple, as they didn't come to claim their giant prize for months and, even then, eschewed any TV appearances or photos posed with giant checks. In a statement to the press, they said, "We have engaged a team of advisers to educate and guide us through this process so that we can be good stewards of these new resources. While many decisions are still to be made, we have committed nearly all of this new resource to a Trust and to charities that are important to us." It continued, "While we are very grateful for the wonderful wishes and encouragement we've received, it is not our intention to become public figures, and we ask for and appreciate privacy going forward."
The formal approach was lauded by a spokesperson of the California lotto. "The winners were smart and assembled a team with not only attorneys, but financial advisers, security people, and created a comprehensive plan," Alex Traverso said at the time, in July 2016.
The common fate of the American lotto winner
Hiring experts to help is a wise path that not many lotto winners follow. Lotto winners are more likely to declare bankruptcy — within three to five years of their win — than the average American, and some winners have even seen their windfall as a "curse." At least two lotto winners have been killed, allegedly by friends or family after their winnings, and another two have died under extremely mysterious circumstances.
"These are people who you've loved deep down, and they're turning into vampires trying to suck the life out of me." — Sandra Hayes
"I had to endure the greed and the need that people have, trying to get you to release your money to them," lotto winner Sandra Hayes told the Associated Press in 2012. She and her coworkers split a $246 million jackpot in 2006. "These are people who you've loved deep down, and they're turning into vampires trying to suck the life out of me."
Let's hope that the winner — or winners — of this year's giant bounty don't fall prey to those vampires, nor to their darker urges. Traverso recommended California's handbook for lottery winners, and many more resources exist for those who suddenly find themselves with with too much money. May we recommend hiring a money manager, to start?