Who's Sorry This Week? Jason Blum, Samantha Markle and other public apologies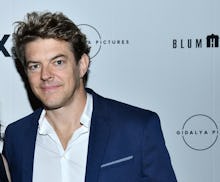 It's almost Halloween, and you know what that means — it's time for another spooky round of celebrity apologies.
In Who's Sorry This Week? Mic tracks down the most prominent mea culpas from celebrities, companies and other public entities trying to make amends for their various screw-ups.
Let's check out what past mistakes rose from the dead this week.
Jason Blum is sorry for his comments about women directors
Here's a seasonally appropriate public apology: Producer Jason Blum, founder of the low-budget horror-movie institution Blumhouse Productions, has apologized for comments he made in a recent interview with Polygon.
In response to a question about why his company has never "produced a theatrically distributed horror film directed by a woman," Blum answered, "There are not a lot of female directors period, and even less who are inclined to do horror."
His comments incited a pretty instant backlash, and on Wednesday, Blum posted an apology on Twitter in which said his "dumb comments" were a "stupid mistake."
"I spoke too quickly about a serious issue — an issue that I am passionate about," he said. "We have not done a good enough job working with female directors and it is not because they don't exist."
It sure isn't, Jason!
Meghan Markle's half-sister, Samantha Markle, is sorry for their "past tension"
If you're up-to-date on royal-adjacent drama, you might already know that Meghan Markle and her half-sister, Samantha Markle, have somewhat of a strained relationship. Well, after the Duke and Duchess of Sussex announced her pregnancy Monday, Samantha Markle apologized for their past friction.
"I'm so excited, I'm so happy for you and I really, really am sorry for any of the past tension and confusion and misunderstandings and asinine things I've said when I just didn't understand what was going on and I wanted things to work out for my dad," Samantha Markle said during in an interview with DailyMailTV, according to Cosmopolitan.
"But this is just a great time for you guys and Meg, I love you," she added. "Congratulations to both of you. Let's just let it all go and you two be wonderful happy parents — I'm so happy for both of you."
MLB player Enrique Hernandez is sorry for complaining about Dodgers fans
Los Angeles Dodgers utility player Enrique Hernandez has apologized for complaining his hometown fans weren't cheering enough during Game 3 of the National League Championship Series, MLB.com reported Tuesday.
After the Dodgers' 4-0 loss to the Milwaukee Brewers on Monday, Hernandez implied the Dodgers couldn't score because "the stadium had no energy, the fans had no energy."
He also reportedly criticized fans for booing Dodgers catcher Yasmani Grandal.
"If they think that they can do it, go ahead," Hernandez said Monday, according to MLB.com. "Put on your gear and go catch 99 [mph] with breaking balls that have a lot of movement."
On Tuesday afternoon, Hernandez posted a long message on Twitter, saying, "I'd like to apologize to all who thought that I was blaming the fans for last night. That's not what I said, nor will I EVER say such a thing! I was really frustrated after the game and as a competitor, I was frustrated because of the way we played and the way I performed. I haven't done anything this series but that doesn't affect me that much as long as we win; last night we didn't and it got to me."
The U.S. Embassy in Australia is sorry it emailed a weird photo of a cat wearing a onesie
Here's an odd one: The U.S. Embassy in Australia has apologized for accidentally emailing a photo of a cat wearing a Cookie Monster costume, the BBC reported Monday. The email, which was sent from the U.S. State Department to an "unknown number of recipients," had the subject line "meeting" and contained the phrase "cat pyjama-jam."
In comments to the Australian Associated Press, embassy spokesperson Gavin Sundwall said the email was a "training error."
"Sorry to disappoint those of you who were hoping to attend this 'cat pyjama-jam' party, but such an event falls well outside our area of expertise," Sundwall added.