This school is training American kids for K-pop stardom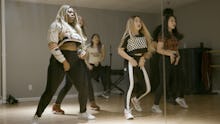 K-pop, short for Korean pop, is rapidly taking over U.S. pop charts — and the hearts of millions of its fans. BTS, a seven-member boy band from South Korea, was the first K-pop group to land a No. 1 album on the Billboard 200 charts in May with Love Yourself: Tear. NCT 127, a boy group that debuted in 2016, has followed in their tracks, landing a performance on Jimmy Kimmel Live! and an appearance at this year's American Music Awards.
Much of K-pop's success in the United States can be attributed to new platforms opening up for foreign language music to reach young people's ears. The style, singing talent and dance moves of groups like BTS have even inspired American kids to want to break into the K-pop industry.
K-pop stars are products of rigorous schools where they often train for years. Born Star Training Center in Seoul, South Korea, has helped launch the careers of several K-pop artists. In 2014, the center started a branch in New York City — which claims to be the only K-pop training center of its kind in the United States — to identify foreign K-pop talent.
While there have been a few non-Korean artists that have broken into the industry in the past — Alexandra Reid, an African-American former member of the K-pop girl group Rania — it's still quite rare to see people who aren't East Asian make it into groups.
"There are companies that are making groups that aren't Korean specifically so that they can go into other markets," Billboard's K-pop columnist Tamar Herman said in an interview with Mic Dispatch. "But right now I don't know of any companies, at least any of the big companies, that have non-Asian trainees."
But Born Star has hopes that the market will change and they continue to train kids to the highest of standards. The school has sent two kids to Korea in the past year for more training and a chance to catch the attention of major labels.
"Of course I want them to be a famous K-pop star," Born Star CEO Hannah Hong said. "Whatever their dream is. They even don't have to go to Korea. They can be successful here. That's what we're training for."
Check out episode 29 of Mic Dispatch — only on Facebook Watch.
To catch future episodes of Mic Dispatch, follow Mic Dispatch on Facebook Watch. For more stories about the show, visit the Mic Dispatch collections page.