Anthony Bourdain makes a case against Trump's wall in season 12, episode 4 of 'Parts Unknown'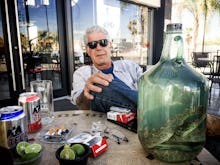 "Why's it so goddamn hard to be a good person these days?" In Sunday's episode of Parts Unknown, Anthony Bourdain is in far west Texas — the rugged, untamed land that neighbors the Mexican border — and this is the rhetorical question he poses while talking Mexican-American relations with Ty Mitchell, owner of Lost Horse Saloon in Marfa, Texas.
Marfa is made up of cowboys, border control, hipsters and New York artists. It's a hodgepodge of people who traditionally have no business coexisting in the same city — but that's Marfa. "Maybe we don't understand each other but we can all be in the same place at any time," David Beebe, who is a county employee, musician, radio host and restaurateur, tells Bourdain. "People here are nice."
In typical Bourdain fashion, the late host paints a picture of Texas and Texans that turn any kind of stereotype on its head. Sure, we see immensely mustached cowboys and Spanish-speaking men building homes from adobe, but we quickly witness how they treat one another is distinctly the opposite of Donald Trump's "build the wall" mentality.
The wall is the theme threaded throughout the entire episode; in the far-west cities Bourdain visits, the country of Mexico is astonishingly near. In fact, in one scene we see two people standing shoulder to shoulder, facing opposite directions: One is looking at the United States, while the other is looking at Mexico.
Even though Bourdain often travels to places outside the Western hemisphere to shed a light on how other people live, his visit to Texas manages to feel otherworldly. Why, the viewer can't help but wonder, is the U.S. working to tear these adjacent countries apart, when they work so seamlessly together?
"We can't survive without the river," Mitchell, the bar owner, tells Bourdain of the Rio Grande, which is the physical divide between Mexico and Texas. "And we can't survive without the people on that side of the river. And they can't survive without us. And they're our friends, for god's sake. Loyalty is a big thing in Texas, and you ain't gonna build a fence between me and my loyal friends."
The sentiment is echoed again and again. We meet a sweet couple that can only spend time together in what's considered Mexico. The girlfriend has to travel just about a mile to see her beau, while he's not permitted to walk through the United States to see her. The people we meet seem to prefer their border blurred. And this is clear in the food — specifically, the region-famous burritos served from inside a gas station, and the homemade menudo, mesquite flour empanadas and queso fresco Bourdain gets to taste in Marfa.
Bourdain shows us that this part of Texas wouldn't really exist — or flourish — without the closeness shared with Mexico as a neighbor. "We always work together, and we never fight," one of Bourdain's guests explains. "We've been friends for 300 years. Inseparable."