Lena Dunham's 'Lenny Letter' is reportedly shutting down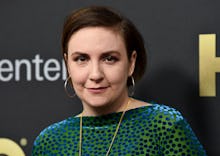 Lena Dunham's website Lenny Letter, which began as a newsletter and expanded into a site covering news and culture, is reportedly shutting down on Friday. According to a report Thursday from Digiday, staff members were told the news earlier in October, and the site recently informed contributors that it was pulling the plug.
Lenny Letter began as a newsletter in 2015, started by Dunham and Girls writer and showrunner Jenni Konner. The newsletter itself flourished, growing to more than 500,000 subscribers and boasting contributions from high-profile stars like Alicia Keys and Jennifer Lawrence.
Then, Lenny Letter began to expand — there was the website, podcasting and "briefly, video," according to Digiday. The site struck up an ad sales partnership with Hearst, then switched to Condé Nast. But, over the past year, the social media presence of the Lenny Letter website slipped, its Twitter following declined and its Facebook following was stagnant, Digiday reported.
And in 2017, writer Zinzi Clemmons announced in a statement on Twitter that she would no longer contribute to Lenny Letter, citing what she called Dunham's "hipster-racism."
Dunham herself hasn't made any public statements about the site's closure — in fact, she's been recovering from recent surgery to remove her left ovary, and, as of Thursday, was still tweeting from her hospital room.
It's not yet clear which elements of the site will continue as separate ventures, if any. According to Digiday, one of the site's podcasts "was soliciting pitches for its second season as recently as last week." Despite the news that the site's last day is Friday, its social media accounts seemed to be continuing as normal as of Thursday afternoon.