Rick Scott will allow voting exceptions in 8 Florida counties devastated by Hurricane Michael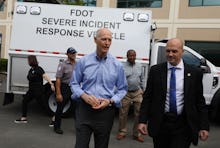 As Florida communities struggle to pick up the pieces in the aftermath of Hurricane Michael, outgoing Gov. Rick Scott has agreed to relax voting rules in eight of the state's hardest-hit counties.
The exceptions Scott granted include removing restrictions around where election officials are allowed to establish early voting sites, allowing residents to request mail-in ballots be sent to addresses that differ from the ones on file with the state and, in some instances, extending the early voting period up until Election Day.
Although Florida's State Department said in a press release that no voting equipment had been damaged in the storm — which left 16 people dead in Florida and thousands without homes — widespread power outages, downed phone lines and costly infrastructure damage have hobbled the state with less than three weeks to go until the Nov. 6 midterms.
For Scott, who is term-limited and currently challenging incumbent Democrat Bill Nelson for the U.S. Senate, the decision to relax voting rules could be seen as a maneuver to help shore up votes from some of the Republican strongholds along the Panhandle that were ravaged by the hurricane, according to Talking Points Memo.
In a statement obtained by the New York Times, Florida Secretary of State Ken Detzner said the "No. 1 priority" for the state is to ensure "all registered voters, first responders and volunteers in affected areas are able to cast their vote safely and securely without any barriers."
The move also comes amid an increasingly contentious contest between Democrat Andrew Gillum and Republican Ron DeSantis, who are vying to replace Scott in the governor's office next January.
In the storm's aftermath, Gillum, the progressive mayor of Tallahassee who currently enjoys a slight edge over DeSantis in the race, has suspended his campaign "to make sure local officials have everything they need," a spokesperson told CNN.
"In times like these, campaigning has to take a backseat to governing," Gillum said in a statement. "My job is to keep our community safe and ensure Tallahassee recovers as quickly and fully as possible."
Although Gillum may have opted to put the brakes on stumping, his campaign has continued to receive interest from Democratic megadonors. Billionaire philanthropist Tom Steyer announced Thursday his plans to donate an additional $2 million to Gillum's "Forward Florida" political action committee — in addition to the $5 million he previously contributed via NextGen America.