Mic Daily: McConnell's latest comments are a gift to Democrats — and other news of the day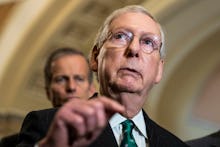 Happy Thursday, folks. I'm Tim Mulkerin, your guide through the five best stories out of Mic today — including one about quite a fascinating marijuana-themed college program. Let's get started.
Republican Rep. Dave Brat recently visited Chesterfield County Jail in Virginia to speak with incarcerated drug addicts. While there, he said the following:
"You think you're having a hard time — I've got $5 million worth of negative ads coming at me, how do you think I'm feeling?"
We all make choices, I suppose, and that was certainly a choice.
Clothing company Diesel recently unveiled a new jacket with the word "faggot" scrawled across the back, as a part of a campaign alleging, "The more hate you wear, the less you care."
It, perhaps intentionally, sparked more than a little conversation online.
This week, Senate Majority Leader Mitch McConnell (R-Ky.) has been interviewed by a number of media outlets, essentially, according to Mic's Emily Singer, giving Democrats a massive gift with his harsh comments on social security, Medicare, Medicaid and the biggie: the Affordable Care Act.
Though President Donald Trump has appeared to defend Saudi Arabia amid reports it tortured and killed dissident journalist Jamal Khashoggi, Treasury Secretary Steve Mnuchin hasn't followed suit.
Instead, Mnuchin announced Thursday he will no longer participate in the Future Investment Summit in Saudi Arabia, which was scheduled for later in the month.
Oh, hey, haven't you heard? On Wednesday, Canada legalized recreational marijuana. With all that pesky red tape out of the way, you might be interested to learn more about the cannabis production program at Niagra College in Ontario, Canada, where students will learn about plant nutrition, pest management and various legal regulations.
The bad news is that — unlike its students — the acceptance rate isn't all that high, with just 8% of applicants making the cut.
Mic Daily is Mic's newsletter that cuts through the noise and lands in your inbox every weekday. We carefully curate each edition to send you a cross section of our most vital stories of the day.