Remember the "adults" in the Trump administration? Most of them seem to have left the room.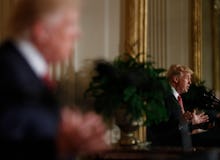 Back in September, a senior Trump administration staffer wrote an anonymous New York Times op-ed describing a "resistance" from within that worked to protect the nation from President Donald Trump — particularly on matters related to global affairs.
While Trump cozies up to strongmen like Russian President Vladimir Putin and turns a cold shoulder to longstanding American allies, the unnamed official wrote, a cadre of "adults in the room" have pursued a more traditional United States foreign policy — seeking to maintain is partnerships and to hold bad actors like Russia accountable.
The result, according to the author, "was a two-track presidency."
"We fully recognize what is happening," the official wrote. "And we are trying to do what's right even when Donald Trump won't."
But several of those so-called adults in the room have departed over the past year, and more potential ousters loom on the horizon. What's more, Trump has replaced them with officials who seem more aligned with his foreign policy vision.
So is his executive branch still operating on two separate tracks? And if so, how much longer can that supposedly sober sect of the administration safeguard the U.S. — and the world — from the president's "half-baked, ill-informed and occasionally reckless" whims?
"The second two years of Trump's administration could be far worse than the first two," Bill Curry, a former counselor to President Bill Clinton, said in a phone interview. "The idea at least that there were some people at least slowing Trump down, there was at least something to that."
"I see trouble," Curry said.
Trump entered office with an exceedingly vague foreign policy vision, a doctrine loosely centered on "America first" isolationism but grossly lacking in detail, riddled with contradictions and muddied with misrepresentation.
He frequently promised during the 2016 campaign to solve some of America's most complex foreign policy problems, including the terrorist group ISIS, "very quickly," but refused to reveal any aspects of his "great" plan.
He vowed during his inauguration that he would make the "carnage" at home his priority before addressing global affairs, but he has repeatedly intervened or threatened to do so in conflicts around the world, including a bombing campaign he ordered in Syria and frequent suggestions that he could involve the U.S. in Venezuela.
While some of the contradictions in his foreign policy agenda are obvious, Trump often twists the truth to make his position appear more consistent, as he has done on U.S. policy toward Syria and Iraq. And when he does take a clear position on a matter, such as his opposition to the Iran nuclear deal, he frequently misrepresents or evinces a shallow understanding of it.
The result, then, is a foreign policy doctrine that, like so much of what Trump does, seems governed largely by a mix of impulse and self-interest.
But at the same time, a group of deeply conservative, yet more traditional foreign policy figures around him have seemed to attempt to steer the administration on a more typical path for a Republican administration.
Trump has praised Putin and pushed for warmer relations with Moscow. But Steve Mnuchin's Treasury Department has leveled several rounds of sanctions against the Kremlin, Nikki Haley has lambasted Russia before the United Nations and Director of National Intelligence Dan Coats has maintained that Russia interfered in the 2016 election — something Trump himself is reluctant to admit.
While Trump was firing unhinged Twitter threats at Kim Jong Un and threatening to "totally destroy" North Korea, then-Secretary of State Rex Tillerson publicly pursued diplomacy with Pyongyang — despite the president publicly declaring his outreach to be a waste of time. And when Trump swung to the opposite extreme and "fell in love" with Kim, Secretary of Defense Jim Mattis reportedly felt the U.S. had given up too much to the North Korean dictator in canceling its military drills with South Korea.
Mattis has also reportedly disagreed with Trump's adversarial approach to the North American Trade Organization and his decision in May to withdraw the U.S. from the Iran deal.
But Tillerson, who once reportedly called the president a "fucking moron," is long gone, ousted by Trump in March with a quick flick of his Twitter finger. In his place is Mike Pompeo, the former CIA director and Trump loyalist who critics say shares the president's combative style of diplomacy.
Also gone is H.R. McMaster, the former national security adviser who publicly broke with Trump over his sweeping condemnations of Islam and his embrace of Russia. And while his replacement, John Bolton, may not fit with the president's more isolationist inclinations, the new national security adviser's aggressive, trigger-happy approach to international affairs seems perfectly in line with his boss'.
Gary Cohn, who as Trump's former economic adviser reportedly swiped papers from his desk to prevent him from making impulsive moves on the world stage, left the administration in March. Trump replaced him with Larry Kudlow, a cable news personality who has staunchly supported him.
Trump will soon have more foreign policy officials to replace.
In October, Haley suddenly announced that she will resign as U.N. ambassador, with Trump set to announce her replacement in the coming weeks.
Mattis, too, could be out soon.
The retired four-star general known as "Mad Dog" has been rumored to be next on the chopping block after Trump referred to him in an interview as a "Democrat" — a slur, coming from a president who has labeled members of that party "evil."
"The great irony is that one of the biggest 'adults in the room' was a guy nicknamed 'Mad Dog,'" Curry said, referring to Mattis. "And now we might even be losing him."
While Mattis has insisted in recent days that he has the full support of the president, the apparent possibility of his departure could be yet another opportunity for Trump to further tweak his foreign policy lineup to more closely reflect his reckless, impulse-driven approach to world affairs.
"It's important to remember that throughout all of the staff changes we've seen throughout this administration, and we have seen a lot, one thing remains the same: Donald Trump is the guy in the Oval Office," Stephen Miles, director of Win Without War, a liberal foreign policy program out of the Center for International Policy, said in an email. "While no administration is driven solely by the president, Donald Trump clearly sets the tone and calls the shots, regardless of who he is giving orders to."
Some of the so-called "adults in the room" have remained.
There's been no indication that Mnuchin is going anywhere anytime soon, despite being the face of the administration's sanctions against Russia. Coats' job security has been a matter of public speculation since he broke with Trump on Russia after the infamous Helsinki summit over the summer, but so far he's proceeded unscathed by the president's ire. And John Kelly, the chief of staff who has sometimes been seen as one of the "adults," remains firmly in place — despite near constant rumors of a rift with Trump and a recent skirmish with Bolton that reportedly nearly led to one of the two resigning their post.
But many doubt that Trump could actually be contained by the "adults in the room" — and if any of the officials cast as such ever really fit that description.
"There's always been far too much credence put on the 'adults in the room' theory of the Trump presidency," Miles said. "It's a nice story that people tell themselves for their unwillingness to confront the truth that we have a wildly reckless man in the White House who endangers our national security every day."
"No one is going to save us from that reality but ourselves."