Today in Trump's America: Trump praises GOP congressman for body slamming a reporter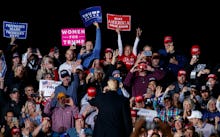 It's finally Friday, readers. TGIF.
President Donald Trump will spend his weekend on the campaign trail where he's been attacking Democrats for being a "mob," while at the same time ginning up his rally crowds that exhibit mob-like behavior. Hypocrisy at its finest.
Here's what's happening in Trump's America.
• President Trump is in Arizona on Friday, where he flew last night following a campaign rally in Montana. He's mixing campaign events with official events, making it unclear whether his campaign or taxpayers are funding his travel throughout the state.
About last night: Trump cheers Republican lawmaker who body slammed a reporter
So much for civility.
President Donald Trump praised Montana GOP Rep. Greg Gianforte for body slamming a reporter who in 2017 had asked Gianforte about how he'd vote on the now-failed Obamacare repeal. Gianforte was ultimately charged with assault for the incident and pleaded guilty to the attack.
"Any guy that can do a body slam, he's my kind of guy," Trump said as the crowd cheered.
Ironically, his comment came after he claimed Democrats were the "mob." They also came as Saudi Arabia finds itself under fire for its apparent brutal murder of a journalist and dissident at their consulate in Turkey.
Trump going off script with comments such as these are exactly why Republicans find themselves in position to potentially lose the House.
A look at Trump's approval rating — which is directly tied to Republicans' fate in the midterm elections — shows it seems to rise when he is out of the news and doing traditionally presidential things, and it falls again when he reverts back to his unpresidential tendencies of sending off bizarre and mean-spirited tweets or making off-color comments like the one about Gianforte.
With 18 days until the elections, Republicans can't afford to have an untethered Trump.
Today in Trump's America: Republicans continue to gaslight public on their health care position
Since Trump took office with unified control of Congress, his administration along with Republican lawmakers have made multiple attempts to repeal and dismantle the Affordable Care Act — the health care law that mandates insurance companies provide coverage to all Americans, even those with pre-existing conditions.
Republicans' failed repeal bill would have allowed insurance companies to charge older Americans, who often have pre-existing conditions and are more expensive to insure, higher premiums than younger Americans who are often healthier and cheaper to cover.
The state of Texas has filed a lawsuit that would nuke pre-existing condition coverage. The suit is backed by the Trump administration and several other Republican attorneys general.
Yet Trump and other Republicans running for Congress this year are continuously gaslighting the public, claiming they support pre-existing conditions coverage despite a voting record and current actions that show the exact opposite.
"All Republicans support people with pre-existing conditions, and if they don't, they will after I speak to them," Trump — who supports the lawsuit that will nuke the pre-existing conditions coverage mandate — tweeted on Thursday. "I am in total support. Also, Democrats will destroy your Medicare, and I will keep it healthy and well!"
In Missouri, state Attorney General Josh Hawley, the Republican nominee for Senate running against Democrat Claire McCaskill, claims he supports pre-existing conditions coverage, despite personally choosing to have his state sign on to the Texas lawsuit.
Wisconsin Republican Gov. Scott Walker is claiming he will "always" ensure pre-existing conditions are covered so long as he's governor, despite the fact that his state also signed on to the Texas lawsuit.
Reps. Dave Brat of Virginia and Cathy McMorris Rodgers of Washington state are among other GOP House members touting their support for pre-existing conditions coverage, despite having voted for the failed repeal bill in 2017 that would have weakened those protections. They both find themselves in tough re-election bids despite the otherwise Republican lean of their districts.
Democratic candidates and outside groups are hammering home GOP members' repeal votes on the airwaves, and it's proving to be a problem for the party. Health care is a top concern among voters in November, with polls showing voters believe Democrats are better on the issue than the GOP.
And the rest...
Hmmm...: A Turkish source told ABC News Secretary of State Mike Pompeo heard a recording of journalist Jamal Khashoggi's murder. Yet State Department spokeswoman denied Pompeo heard the tape.
"Secretary Pompeo has neither heard a tape nor has he seen a transcript related to Jamal Khashoggi's disappearance," State Department spokeswoman Heather Nauert said on Thursday.
More travel woes for Trump Cabinet official: An inspector general at the Department of the Interior said the agency's head, Ryan Zinke, inappropriately used taxpayer money to allow his wife to travel with him on official trips, Politico reported. Mic reported in October 2017 Zinke's travels with his wife raised questions about how taxpayer money was being spent.