Hype Daily: Rihanna reportedly turned down the Super Bowl halftime show and other entertainment news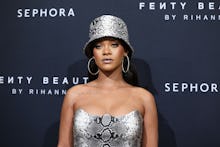 TGIF gang, am I right? This is the last entertainment roundup of the week, so let's make it a good one.
Rihanna reportedly turned down an offer to play the Super Bowl halftime show because of Colin Kaepernick
Pop star, actor and makeup mogul Rihanna reportedly turned down an offer to play this season's Super Bowl halftime show because of her support for activist and former NFL player Colin Kaepernick — at least according to a Thursday night exclusive from US Weekly. An unnamed "insider" told the gossip mag, "The NFL and CBS really wanted Rihanna to be next year's performer in Atlanta. ... They offered it to her, but she said no because of the kneeling controversy. She doesn't agree with the NFL's stance."
In case you live under a rock, Kaepernick was essentially blacklisted by the NFL after he began peacefully protesting police brutality by kneeling during the playing of the national anthem. And apparently Rihanna is with Kap, and Maroon 5 will reportedly play the halftime show instead.
Kobe Bryant was removed from a film jury because of his 2003 rape allegation
Former NBA superstar Kobe Bryant, who won an Oscar this year for an animated short he produced and starred in, has been removed from a film festival jury because of a 2003 rape allegation against him. As the Washington Post reported on Thursday, Bryant had been invited to serve on the jury for the 2018 Animation Is Film Festival, but the festival removed him from the jury after women and allies within the animation community voiced their concern.
A petition started to ask for Bryant's removal reportedly said "This is an urgent time to say NO to toxic and violent behavior against women." In 2003, Bryant was accused of rape by a 19-year-old hotel employee. Bryant claimed their encounter was consensual. The case was dropped when the alleged victim declined to testify.
Orange Is the New Black will end after season seven
The dramedy series Orange Is the New Black, which helped establish Netflix as a legitimate maker of original content, will end after the upcoming seventh season, the streaming service announced this week in a video posted to Twitter.
In the clip, cast members share their thoughts about going into a final season. "I'm going to miss playing and living on the edge of one of the most groundbreaking, original and controversial series of this decade," Kate Mulgrew, who stars as Red, says in the video. And Uzo Aduba, who plays Suzanne Warren, added, "Season seven, you will not be disappointed. It is a season you will not forget, and we are going to give you everything and more that you could have ever wanted."
It's always sad to say goodbye, but in this case, I feel ready. The seventh and final season will premiere on Netflix in 2019.
Apparently, Banksy's self-shredding painting didn't work like it was supposed to
Mysterious street artist Banksy said the self-shredding painting didn't exactly go off like it was supposed to — apparently, the whole dang thing was supposed to shred instead of stopping about halfway. In a video posted to YouTube, Banksy wrote the entire painting was meant to be destroyed, and that "in rehearsals it worked every time," Vulture reported on Thursday.
Earlier this month, the intact painting sold for more than $1.2 million in auction at Sotheby's — and then immediately began to pass through a shredder hidden in the bottom of the frame. But it wasn't completely destroyed, which probably means it's even more valuable now, right?
Put this on your radar: Wildlife
Actor Paul Dano makes his directorial debut in the new film Wildlife, a family drama set in 1960 Montana that opens in theaters on Friday. The film stars Jake Gyllenhaal and Carey Mulligan as two halves of a dysfunctional married couple.
It's been earning rave reviews — as of Friday morning, it had a 97% rating on Rotten Tomatoes. And reviewers have especially praised Mulligan's performance. Check out a trailer here.
This has been Hype Daily, Mic's morning entertainment roundup. It's everything you need to catch up on in the entertainment world and what to look forward to today. Want to receive this as a daily email in your inbox? Subscribe here.