Ashley Graham weighs in on Kendall Jenner being "super selective" about runway shows: Lucky her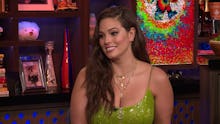 The story began in August, when Kendall Jenner, currently the highest paid model in the world, made a passing comment that caught the modeling world's ire in Love magazine's 10th-anniversary issue.
The quote, which Jenner later claimed was taken out of context, was in regards to her choosiness when it comes to booking runways. "Since the beginning we've been super selective about what shows I would do," she said. "I was never one of those girls who would do like 30 shows a season or whatever the fuck those girls do. More power to 'em. But I had a million jobs, not only catwalks but everything else."
The backlash was swift and scathing.
"Never been so indirectly and publicly offended in my whole entire life," model Irina Djuranovic wrote on Instagram.
"So disrespectful to literally 99% of people in the industry," Jac Jagaciak wrote.
"'Whatever the fuck those girls do' is do their very best to make their way up AND try to make some money so that they can provide for themselves and their families," model Daria Strokous wrote on Instagram.
And though the story seemed to die down back in August after her clarification, the drama was reignited in late September during Naomi Campbell's appearance on Watch What Happens Live With Andy Cohen. Asked to weigh in, with only a small bat of her eyes, Campbell asked for the "next question," before swiftly moving on. This of course led to headlines like: "Naomi Campbell Threw Shade at Kendall Jenner With Just Two Words."
On Thursday night's WWHL, Jenner's comments got rehashed once more, this time precipitated by a caller asking for Graham's thoughts on the matter.
"Well, lucky for her," the America's Next Top Model judge said after a subtle hair flip. "Cause I've never been... that's so lucky. These tits and and ass have just had to fight through and break down barriers every day."
Watch the clip below: