Trump takes tougher tone on alleged Khashoggi killing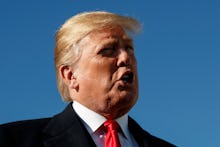 President Donald Trump on Thursday appeared to adopt a somewhat stronger tone on the presumed assassination of Jamal Khashoggi, getting closer to acknowledging to the New York Times that he accepts Saudi Arabia may have played a role in the journalist's alleged killing and dismembering.
"This one has caught the imagination of the world, unfortunately," Trump told the Times. "It's not a positive. Not a positive."
While Trump did not say outright that he believes Saudi Arabia was behind the dissident's disappearance, his warnings of "severe" consequences if Riyadh is confirmed to be behind the presumed killing represents something of a shift for the president who had spent recent days defending the kingdom and spouting its leadership's talking points.
But his seeming shift in tone came just as his conservative allies on Capitol Hill and the media reportedly began building political cover for him to continue his inaction on Saudi Arabia, which despite a poor human rights record has enjoyed a special relationship with the United States for more than 70 years.
According to the Washington Post, with whom Khashoggi was a contributor, conservatives in recent days have begun mounting a "smear campaign" against the journalist, seeking to tie him to the Muslim Brotherhood and Osama bin Laden.
Khashoggi had associations with the Islamist group in his youth, but had shifted to a "more liberal, secular point of view" as an adult, according to the Post on Thursday. His associations with bin Laden extended only to reporting on him in the 1980s and 1990s, the paper added.
Several of Trump's allies in the House, as well as at Fox News and other corners of the right-wing media, have taken to misrepresenting those relationships to suggest that, in the words of Republican Virginia senate hopeful Corey Stewart in a radio interview Thursday, Khashoggi was "not a good guy himself."
The smear campaign, which Donald Trump Jr. has participated in on Twitter, has been launched in an apparent effort to shield the president from criticism as he continues to embrace Saudi Arabia.
It wasn't yet clear on Friday whether Trump would continue to take a tougher stance on the alleged Khashoggi killing, or if he would revert back to his earlier defenses of Saudi Arabia.
Khashoggi was last seen entering the Saudi consulate in Istanbul Oct. 2.
Turkish officials have said that the dissident journalist was brutally killed and dismembered at the direction of the Saudi government, which the kingdom's leadership has repeatedly denied.
Trump, who has business ties to the country, has lamented that Saudi Arabia is being treated as "guilty until proven innocent" and suggested "rogue killers" may have actually been behind the disappearance. He also expressed a reluctance to punish Saudi Arabia if it was found to be responsible, suggesting that doing so would hurt the U.S. economy.
Nevertheless, lawmakers — including some Republicans, such as Sen. Lindsey Graham (R-S.C.) — have called for sanctions against the Saudi regime and a rethinking of Washington's relationship with Riyadh.
Trump's acknowledgement that Khashoggi was likely dead, and his seeming confidence in the intelligence community, came the same day Treasury Secretary Steve Mnuchin withdrew from the Future Investment Summit to be held in Saudi Arabia later in October.
Mnuchin announced he would not be attending the event, known as "Davos in the Desert," after meeting with Trump and Secretary of State Mike Pompeo, who visited Saudi Arabia earlier in the week.