Facebook hired a former member of Europe's Parliament as its global affairs head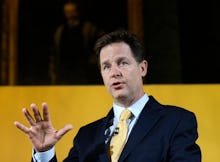 Nick Clegg, the former U.K. deputy prime minister, will now work for Facebook.
According to the Irish Times, Clegg will lead Facebook's global affairs and communications team. Previously, Clegg was a European Commission trade negotiator, part of the European Parliament between 2005 and 2017 and served as deputy prime minister from 2010 to 2015.
Having worked for the European government, Clegg's experience could serve his role at Facebook well. The company continues to face pushback from the European government, resulting in sweeping privacy regulations like the General Data Protection Regulation and hearings with EU parliament, where the company has been grilled about privacy. A former politician like Clegg could serve to improve Facebook's relationship with the EU government.
Facebook has had a turbulent 2018. In March, a whistle-blower with consulting firm Cambridge Analytica put a spotlight on the company's questionable user data practices. Personal info that Facebook gave the firm was used to sway votes during the 2016 election. Facebook emphasized that this was not a hack.
Directly after the Cambridge Analytica scandal, users learned more disturbing details about how Facebook vacuumed up user data. In one example, Android users discovered that the company collected text messages and call data.
In April, CEO Mark Zuckerberg visited Congress for a public hearing where he was forced to explain the company's data-gleaning practices. Later, in September, Facebook admitted to at least 30 million accounts having been compromised by hackers. While hackers didn't learn of users passwords, they did have access to users' accounts and other apps that let you login via Facebook (Spotify or Tinder, for example). At one point, the company saw its value drop by $37 billion.
The hiring of Clegg adds another bullet point to Facebook's list of ways to preserve government relations, joining actions like limiting fake news through new rules and investing in human news checkers. According to the Irish Times, Clegg is the most senior hire to Facebook's leadership team since 2014.