This Week in Trump-Russia News: It may never matter what Robert Mueller finds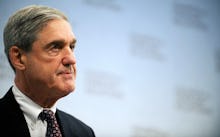 Robert Mueller may be ready to share his findings after a year and a half investigating President Donald Trump's ties to Russia.
According to reports this week, the special counsel plans to deliver his key conclusions in the Russia probe to the Department of Justice following the midterm elections Nov. 6, wrapping up the main parts of an inquiry that has cast a shadow over Trump for his entire presidency so far.
But would any evidence of wrongdoing Mueller finds actually hurt Trump — legally or politically? And will the public ever get to see the special counsel's conclusions?
Mueller will report findings to DOJ
Mueller will report his findings not to the public, but to the Department of Justice.
It'll be up to Mueller's boss — a role currently filled by deputy attorney general Rod Rosenstein — to determine what to do with those conclusions, including whether to make them public.
Rosenstein, who has overseen the FBI probe since Jeff Sessions recused himself from the matter in early 2017, has so far shown himself to be supportive of Mueller and his investigation.
But it's been widely speculated that both men could be fired after the Nov. 6 election, which would leave the fate of the Mueller inquiry in the hands of whomever would inherit it.
That would seem to be Noel Francisco, the solicitor general who has previously endorsed an expansive view of executive power and is seen by many as an ally of the president.
"The dismissal or forced resignation of Rod Rosenstein will mean big trouble for the Mueller investigation," Rep. Lois Frankel (D-Fla.) said in September, following a bombshell New York Times report about Rosenstein's alleged proposal to undermine Trump's presidency in 2017 that seemed poised to cost the deputy attorney general his job.
While the possible heir to the Russia probe would be in a position to decide against Mueller's conclusions to the American public, it's possible the results could still emerge in the press, which has been a key source of information about possible collusion on the part of the Trump campaign and potential obstruction of justice on the part of the president.
Midterms could determine what's done with findings
It's an open question whether a sitting president could be indicted while in office, so it's not clear what kind of legal trouble Trump could face if Mueller finds wrongdoing.
Trump's political vulnerability if the special counsel finds collusion or obstruction will likely depend on the results of next month's midterms.
If Republicans maintain control of the House, the Senate or both, it's unclear they would hold the president accountable; they've largely stuck with Trump through other political maelstroms, and many have helped him in his efforts to undermine the special counsel's investigation.
But if a "blue wave" does, in fact, wash over Capitol Hill, as many political observers have forecasted, a damning Mueller verdict could result in some real political consequences for the president — maybe even including a serious attempt by Democrats to impeach him.
While his ouster would still be unlikely — only two presidents have ever been impeached, and neither was removed from office — Trump has used the threat of it in an attempt to energize his base ahead of November election.
Manafort dishes to Mueller after plea deal
Reports that Mueller is readying to release his findings on key aspects of his inquiry came during what has appeared to be a quiet period for the special counsel.
After a summer characterized by a number of high-profile moves, his investigation has largely been out of the public eye in recent weeks as the Nov. 6 midterm approaches.
But that doesn't mean he hasn't been keeping busy.
According to CNN, his team has met at least nine times in the last month with Paul Manafort — the former Trump campaign chairman who was convicted on eight bank and financial fraud charges stemming from the Russia probe back in August.
Manafort cut a plea deal with the special counsel last month to avoid a second trial in what was widely seen as a major blow to the president, who had previously praised the former campaign chair for "refusing to break" and cooperate with investigators against him.
Manafort, 69, made an appearance in federal court on Friday, where his sentencing was set for Feb. 8, 2019.
He arrived in court in a wheelchair and his lawyer said that Manafort has been suffering "significant" health issues while in confinement.
He and his former deputy, Rick Gates, were among the first to be charged in the Mueller probe, which has since brought down other members of Trump's inner circle, including former national security adviser Michael Flynn.
Russian woman charged as meddling effort continues
Meanwhile, Russia's meddling efforts appear to be continuing in the current election cycle.
A Russian woman on Friday was arrested and charged with attempting to interfere in U.S. elections, including in the 2018 midterms.
Elena Alekseevna Khusyaynova is facing the first publicly known federal charges of meddling related to this year's election, according to the Associated Press.
U.S. intelligence has repeatedly cautioned that Russia has continued its election meddling campaign from 2016 into the current election cycle.
But Trump has publicly cast doubt on the conclusion that the Kremlin intervened in 2016, and after a meeting with Russian President Vladimir Putin in July told reporters that Moscow does not pose a threat to future elections.
"Mr. President, is Russia still targeting the U.S.?" a reporter asked Trump in July. "Is Russia still targeting the U.S., Mr. President?"
"Thank you very much," Trump replied. "No."
"No, you don't believe that to be the case?"
"No," Trump said.