Obama administration's Andy Kim defeats Tom MacArthur, Obamacare repeal author, in narrow House win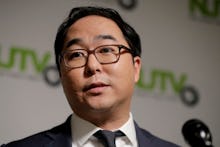 Andy Kim, a Democrat and former National Security Council official in the Obama administration, has won the race for New Jersey's 3rd District, ousting Republican Rep. Tom MacArthur to become the first Korean-American in Congress since 1999. The race was called by the Associated Press on Wednesday afternoon.
The victory did not come easily. On the morning of Nov. 7, the race was still too close to call, despite MacArthur appearing to have a slight edge with 49.8% of the vote and 99% of precincts reporting.
But an influx of Vote by Mail ballots appeared to net an estimated 15,000 additional votes for Kim and around 10,000 votes for MacArthur, flipping the race in the Democrat's favor and placing him squarely in the lead.
Kim's victory in this southern New Jersey district comes even after the district became more Republican in 2016, voting for President Donald Trump by a 6-point margin after backing former President Barack Obama by 5 points in 2012.
MacArthur, however, was dogged by his role in Republicans' failed attempt to repeal the Affordable Care Act, also known as Obamacare.
When House Republicans were struggling to find the votes to pass a version of an ACA repeal, MacArthur teamed up with conservative members of the House to draft a bill that could get enough Republicans on board.
His version of the bill passed, and Republicans celebrated the victory in the White House Rose Garden. But that celebration was premature: The ultimate ACA repeal failed in the Senate, and Republicans abandoned the effort after a major blowback from the public.
Democrats' ads in the district placed a heavy focus on MacArthur's role in the ACA repeal effort, which helped sink his re-election efforts.
"Four months after my wife gave birth, I was diagnosed with ALS," Ady Barkan, a man who has ALS, says in an ad. "I was shocked when Congress passed the tax bill that would take away my health care to fund tax cuts for billionaires." The spot also featured footage from a town hall in May 2017 in which angry constituents yelled at MacArthur for his repeal efforts.
"Tom MacArthur betrayed my family and yours," Barkan says. "On Nov. 6, let's send him home."
Republicans tried to paint Kim as a "Washington insider," but the attacks fell flat, and MacArthur lost.