While You Weren't Looking: 5 stories from the Trump administration that aren't about Stormy Daniels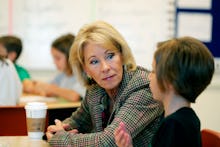 Violence and fake news are rampant, the end of a long midterm cycle looms and, if recent reports are to be believed, ecological collapse is imminent. But even as the general public attempted to shift its focus to more high-minded issues, the sideshow in Washington — including a tweet from President Donald Trump in which he referred to the adult-film star who had sued him for defamation as "Horseface" — continued to distract during the week of Oct. 15.
While the rest of the country was watching the president sling insults at Stormy Daniels, here are five other stories from the Trump administration you might have missed this week.
Inflammatory Maine governor's right-hand woman tapped to oversee Medicaid
When it came to crushing plans to expand Medicaid under the Affordable Care Act, incendiary Maine Gov. Paul LePage had always been a leading member of the Republican vanguard.
So it came as something of a surprise on Monday when the Centers for Medicare and Medicaid Services announced in a statement that Mary Mayhew — LePage's longtime ally and a driving force behind Maine's crackdown on social security programs — had been tapped by the Trump administration to oversee the national Medicaid program.
During her tenure as commissioner of the Maine Department of Health and Human Services, Mayhew helped to execute LePage's agenda of tightening eligibility standards for Medicaid recipients and supporting the governor as he vetoed legislation that would have expanded the state's Medicare program.
Mayhew also openly touted her track record on shrinking entitlement programs during a failed campaign to succeed LePage in the governorship in 2017, when she boasted on the stump that she had helped to oversee a 70% decrease in enrollment in the Temporary Assistance for Needy Families program and a 24% decrease in Medicaid enrollment, according to Politico.
Ryan Zinke tried to amend a policy to allow his wife to travel on the taxpayers' dime
A year after Mic first reported on eyebrow-raising travel documents that omitted the presence of Secretary of the Interior Ryan Zinke's wife, Lola Zinke, on several official trips, the agency's inspector general announced in a report that Zinke attempted to amend official department policy to justify his wife's presence on such excursions.
According to the report, a copy of which was obtained by Politico, Zinke directed staffers to research whether or not his wife could serve as a volunteer within the agency, to justify her travel at the expense of taxpayers. Zinke also reportedly ran afoul of Interior policy by having his wife accompany him in federal vehicles, and by hiring a $25,000 security detail to accompany the couple during a vacation to Turkey in 2017.
This is far from Zinke's first scandal during his brief tenure at the helm of the Interior Department. During the fallout from Hurricane Maria, the storm that ravaged Puerto Rico in 2017, it was speculated that Zinke helped land a massive government contract for a small development company in his own hometown of Whitefish, Montana, to help with rebuilding efforts on the stricken island — a move that some suggested might have been an attempt to personally enrich himself.
He's also been known to live lavishly when it comes to booking travel on the taxpaying public's dime, once chartering a $6,250 round-trip helicopter flight for an afternoon of horseback riding with Vice President Mike Pence.
Democrats say Trump tried to intervene in plans to move FBI headquarters
In February, the federal government abruptly scrapped plans to build a new FBI headquarters building outside of downtown Washington, D.C. Now, a new letter released by House Democrats on Thursday is alleging that the move came at the behest of Trump himself, as he seeks to keep the agency's headquarters in close proximity to his Pennsylvania Avenue Trump International Hotel.
In a letter to General Services Administrator Emily Murphy, Democrats suggest that Trump has vested financial interests in preventing the space from opening up to a would-be competitor to his hotel, which is located just one block away from the current FBI headquarters.
"New documents provided to the Oversight Committee indicate that President Trump met personally with you, the FBI and White House officials on January 24, 2018, where he was directly involved with the decision to abandon the long-term relocation plan and instead move ahead with the more expensive proposal to construct a new building on the same site, and thereby prevent Trump Hotel competitors from acquiring the land," Democrats wrote in the letter.
Press Secretary Sarah Sanders denied any wrongdoing on the president's part in a statement to CNN, saying that, "House Democrats have it all wrong."
"The President wanted to save the government money and also the FBI leadership did not want to move its headquarters," Sanders said.
John Bolton and John Kelly reportedly got into a screaming match about immigration
On Thursday, multiple outlets reported on a very loud spat between White House Chief of Staff John Kelly and National Security Advisor John Bolton. The shouting match was allegedly sparked over a disagreement about Trump's immigration policy.
Sources familiar with the fight told the New York Times that the profane argument was so loud and so intense that it led many West Wing officials to speculate about whether it would lead to a resignation — but by Friday, those fears had mostly been assuaged.
According to the Times' sources, the altercation reportedly arose from the problem of an unstemmed flow of migrants over the U.S.'s southern border, a problem that has stymied Trump as well as past presidential administrations.
According to CNN, Bolton had taken his typical hardline approach to immigration during the fight, while Kelly had been defending his protegé — Department of Homeland Security Secretary Kirstjen Nielsen — who many have speculated that the president blames for rising levels of migrants in the country.
Judge orders Betsy DeVos to implement Obama-era loan forgiveness rule
After attorneys general from 19 states and the District of Columbia filed suit against Secretary of Education Betsy DeVos and the U.S. Department of Education for forestalling an Obama-era student loan rule that had been scheduled to go into effect on July 1, a federal judge on Tuesday ordered that she immediately implement the practice.
According to Forbes, the rule had been drawn up by the Obama administration as part of an effort to make it easier for defrauded student loan borrowers to receive debt forgiveness. The lawsuit, which was filed in federal district court in Washington, D.C., alleged that DeVos had violated the Administrative Procedures Act in her failure to implement the rule and did not meet the protocols to warrant a delay.
In the past, DeVos had criticized the rule for being "unfair to students and schools" alike.
"Fraud, especially fraud committed by a school, is simply unacceptable," she said in a statement in June. "Unfortunately, last year's rulemaking effort missed an opportunity to get it right. The result is a muddled process that's unfair to students and schools, and puts taxpayers on the hook for significant costs."