Trump administration to strengthen religious liberty rules on birth control, LGBTQ discrimination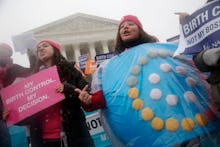 The Trump administration is planning to double down on "religious liberty" protections that could affect birth control access and allow for LGBTQ employment discrimination.
Planned rules would strengthen or expand existing religious liberty protections for employers to deny health care access or make hiring decisions based on their religious beliefs and "moral convictions."
The potential regulations continue the Trump administration's push for "religious liberty," which President Donald Trump has emphasized through multiple executive orders protecting religious liberty. Other executive branch agencies have also made their own moves to protect religious freedom, including the U.S. Department of Health and Human Services and Department of Justice.
Birth control
The Trump administration is pushing forward with its efforts to allow more employers to deny reproductive health coverage to their employees on the basis of their religious beliefs.
The Department of Health and Human Services sent a new rule to the White House Office of Management and Budget on Oct. 11, which would "expand exemptions to protect religious beliefs" for employers who are currently required to provide health care coverage for employees under the Affordable Care Act. The rule would expand current protections for religious groups and "closely held" private companies who gained protections through the 2014 U.S. Supreme Court ruling in Burwell v. Hobby Lobby Stores.
This marks the second attempt by the Trump administration to curtail birth control coverage. The administration previously issued a similar rule in 2017, which was ultimately blocked by the courts after multiple legal challenges.
Under the now-blocked Trump administration rule, any company would be able to deny birth control coverage on the basis of their religious beliefs, and all but publicly traded companies can apply to deny coverage based on their "moral conviction," the Guardian reported.
The new rule could be an attempt to circumvent the previous court rulings, although the details of the new regulations have yet to be released. Advocates cited by the Washington Post believe the final rules will be released in the coming days.
"If it mirrors the interim final regulation, hundreds of thousands of employees, if not more, could lose their birth control benefit simply because of their employer's religious or moral beliefs," Brigitte Amiri, deputy director of the American Civil Liberties Union's Reproductive Freedom Project, told FierceHealthcare about the new rule.
Employment discrimination
The U.S. Department of Labor is also reportedly planning to move forward with religious liberty regulations.
According to BuzzFeed News, the Labor Department intends to create a regulation that would allow businesses with federal contracts to discriminate in their employment practices based on their religious beliefs. The Office of Management and Budget confirmed on its website that the Labor Department "plans to update its regulations to comply with current law regarding protections for religion-exercising organizations," and a department spokesperson told BuzzFeed the full draft rule is expected to be released in December.
The regulation would strengthen an existing Labor Department directive issued in August. Citing the Trump administration's religious liberty orders and the Supreme Court ruling in Masterpiece Cakeshop v. Colorado Civil Rights Commission, the directive told staffers at the Office of Federal Contract Compliance Programs to take the rulings into account for "all their relevant activities." The OFCCP is a Labor Department division tasked with ensuring the federal government complies with anti-discrimination regulations.
"[OFCCP staffers] must respect the right of 'religious people and institutions ... to practice their faith without fear of discrimination or retaliation by the federal government,'" the directive stated.
By issuing a formal regulation rather than a directive, the religious liberty guidance will have a greater force of law behind it and will be more difficult to reverse. It is currently unclear whether the rule will only apply to religious corporations or have a broader scope, BuzzFeed noted.
The new regulation could allow for employers to discriminate against LGBTQ and other employees — such as those of other faiths — on the basis of their religious beliefs. The religious liberty protections create a loophole in an Obama-era policy that prohibits discrimination based on "race, color, religion, sex, sexual orientation, gender identity, national origin, disability or status as a protected veteran."
"In practice, this means religious groups must be allowed to discriminate," Nick Little, vice president and general counsel at the Center for Inquiry, said in a statement about the initial directive. "It is clear who are going to be harmed by this policy move — the LGBTQ community, women and religious minorities, including atheists."
ACLU legal representative Ian Thompson told BuzzFeed that the Labor Department had also confirmed the impending regulation to the organization.
"A formal regulation could serve to further entrench the position that engaging in taxpayer-funded discrimination against LGBTQ people can be permissible as long as it is framed as 'religious liberty,'" Thompson said. "We made clear that taxpayer-funded discrimination against LGBTQ people is unacceptable."