Gavin Newsom is bullish on single-payer health care — except when he's not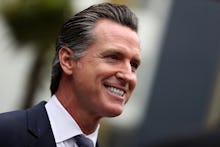 Twenty minutes before the only scheduled 2018 gubernatorial debate in California, Gavin Newsom, the state's lieutenant governor, rolled into a San Francisco parking garage Oct. 8 in a black SUV. Through the tinted windows, a soft overhead light slightly illuminated the race's frontrunner. In a well-tailored blue suit and matching tie, Newsom strode to the elevator and casually leaned his tall frame against the corner, emerging on KQED radio's third floor to banter with waiting reporters — the picture of a polished and confident candidate.
Newsom then squared off with his Republican opponent John Cox, delving into the weeds on all manner of issues in the Golden State. "If you're looking for timidity, I'm not your person," he said when asked about his temperament. But not once did the Democratic candidate mention one of the most controversial pillars of his campaign: single-payer health insurance.
Nationally, Newsom's support for single-payer is perhaps what he's best known for, aside from his bold move as San Francisco mayor to sign marriage licenses for same-sex couples in 2004, a prescient decision that then ran contrary to law. His backing for government-run, universal coverage has sometimes been similarly bold, but other times it's been more muted, prompting conservatives to call him too liberal and liberals to label him too skittish. That dichotomy is likely a reflection of the political challenges he will face if elected, even in one of the nation's bluest states.
His notable omission of single-payer in the debate could have stemmed from a tightly choreographed format and time limitations. But his opponent's campaign immediately jumped on him for it, calling his past efforts to create universal health care in San Francisco a failure of which he should be "ashamed."
Newsom, 51, who declined requests for an interview, has at times attempted to dampen expectations, suggesting to the San Francisco Chronicle in July that the single-payer effort could take years. In part, he was acknowledging a practical hurdle: The federal government needs to approve the move if federal dollars are to be used, and the Trump administration is flatly opposed.
On his campaign website, however, Newsom has publicly called for single-payer coverage in California. In 2017, he endorsed the amended Healthy California Act, which called for covering every Californian, including undocumented immigrants, under one public program.
The bill stalled, in part because it was projected to cost $400 billion a year, nearly three times the general fund expenditures for the 2018-2019 fiscal year. But the California Nurses Association, which has endorsed Newsom, plans to sponsor a new bill in the coming legislative session.
Newsom's supporters say he is committed to the effort, simply because he believes it is the right thing to do.
"There are some people who have health care coverage and others who don't," Mitchell Katz, director of public health in San Francisco when Newsom was mayor and an unpaid adviser to his campaign, said. "Everyone should be covered — for Gavin, it's a fairness issue."
Newsom's opponent, Cox, dismisses the idea. Asked earlier this year whether he supports single-payer, his answer was simple: "God, no."
Even some who respect Newsom's motives see his goal as quixotic.
"I've followed his career and believe he is an individual of integrity who wants to advance meaningful legislation that helps people," Stanford University professor and author Robert Pearl wrote in Forbes magazine. "That said, in a state that's currently struggling to fund its schools and rebuild its infrastructure, Newsom will likely soon realize that turning California into a single-payer state is too expensive a promise to carry out."
On the campaign trail, Newsom frequently pulls out his health care bona fides, namely his experience as mayor when the city of San Francisco spearheaded a unique, all-embracing health care system for city residents.
"I did universal health care in San Francisco," Newsom said recently on a progressive podcast. "We proved it could be done without bankrupting the city. I'd like to see that we can extend that to the rest of the state."
Healthy San Francisco is not a single-payer system. It aims for universal care by covering lower-income residents through a combination of city funds, charity care, copayments and employer contributions. It's not true insurance because it can't be used outside the city. Enrollees have access to a citywide network of pre-existing safety-net hospitals and clinics. At its height, it enrolled 60,000 city residents, though enrollment plunged to 14,000 after the Affordable Care Act took effect. Today, undocumented residents make up the largest share of those on Healthy San Francisco.
Some critics on the left say Newsom took credit for Healthy San Francisco only after it was deemed a success.
"Newsom is claiming credit for something he didn't really do and didn't support," Tom Ammiano, former San Francisco supervisor and state assembly member who was chief architect of Healthy San Francisco, said. "If anything, I would say he did his best to undermine it."
While Newsom liked the idea of universal health care in San Francisco, he did not publicly support the requirement for restaurants to contribute to employees' health benefits, according to Ammiano and others who worked on Healthy San Francisco. But the Board of Supervisors voted unanimously for program, blocking any chance for a veto and forcing Newsom to sign it into law.
After it passed in 2006, the Golden Gate Restaurant Association sued San Francisco, arguing unsuccessfully that forcing restaurants to chip in on employees' benefits conflicted with a federal law.
"We went to court three times, and three times we won," Ammiano said. "Where was Gavin? He never entered that fray. He never supported it, never did anything publicly."
San Francisco progressives like Ammiano and others have never cared for Newsom's pro-business stance — Newsome has owned wine shops and numerous other small businesses with about 700 employees — or what they saw as his slick persona when he was mayor from 2004 to 2011. Among some circles in San Francisco, Newsom was known as "Mayor Press Release" — meaning he had a lot of big ideas but little follow-through.
The San Francisco League of Pissed Off Voters, a progressive political organization that puts out a voter guide, called Newsom a "substanceless glad-hander" who "has been flashing fake smiles, pretending to be progressive for the cameras. … He's a machine-politics climber who claims to fight for the dispossessed but never seems to get around to actually doing anything for them."
But even as a vocal critic of Newsom, Ammiano said he plans on voting for him as governor. "There is no third option," he said. "I don't believe in not voting, and I could never do Cox."
Whoever is elected governor will face numerous hurdles in fundamentally restructuring the state's health care system to cover everyone, including getting buy-in from the federal government and confronting opposition from insurers and others invested in the status quo. But Newsom's supporters say that a governor, at least, would have more authority than a mayor.
"The state has much more power over health care delivery than the county of San Francisco," Katz, now president and CEO of NYC Health + Hospitals, said. "There are many more levers when you are the governor than when you are the mayor."
Ken Jacobs, chair of the Center for Labor Research and Education at University of California, Berkeley, and a member of the council that helped craft Healthy San Francisco, agreed.
For instance, Newsom could push to expand Medi-Cal — the public insurance program for low-income Californians — to include undocumented immigrants, Jacobs, co-author of "Universal Health Care: Lessons From San Francisco," said. Newsom could also prevail upon legislators to institute a state mandate for health insurance and provide subsidies to help cover the costs.
That wouldn't meet the definition of "single-payer," but it would tap a variety of sources to pay into a system that aspires to cover everyone.
Whatever approach Newsom might take, Jacobs said, "Gavin Newsom took the issue of health care very seriously as mayor, and I would expect him to do so as governor."
This story was produced by Kaiser Health News, which publishes California Healthline, an editorially independent service of the California Health Care Foundation. KHN is not affiliated with Kaiser Permanente.