Manafort to be sentenced in February as former Trump campaign chair reportedly in poor health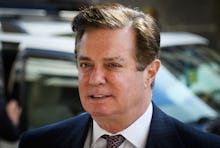 Paul Manafort will reportedly be sentenced in February after being convicted on eight charges stemming from special counsel Robert Mueller's Russia probe.
The former Trump campaign chairman showed up to court Friday in a wheelchair, according to reports, and his attorney asked a federal judge to speed up his sentencing due to "significant issues with Mr. Manafort's health right now that have to do with his confinement."
Manafort, 69, was found guilty in August on eight counts of bank and tax fraud.
The conviction was a major victory for Mueller, who has been investigating possible conspiracy between President Donald Trump's 2016 campaign and the Kremlin for more than a year.
Trump, who has long cast the Russia investigation as a "witch hunt," expressed sympathy for Manafort at the time and praised his former campaign chairman for not cutting a deal with the feds — as his former longtime lawyer, Michael Cohen, did the same day Manafort was convicted.
"Unlike Michael Cohen, he refused to 'break,'" Trump tweeted at the time. "Such respect for a brave man!"
But in September, Manafort pleaded guilty to a second round of charges from the Mueller probe and agreed to cooperate with the special counsel's team.
According to CNN on Wednesday, Manafort has met with Mueller at least nine times over the course of the last month.
Manafort ran the Trump campaign during the summer of 2016 — a period that included the Republican National Convention, when Trump secured the GOP nomination — but resigned that August amid heightened scrutiny of his work for pro-Russian interests in Ukraine.
He and his former deputy, Rick Gates, were indicted in the Mueller probe in October 2017.
Gates cut a plea deal with Mueller in February and served as the prosecution's star witness in Manafort's Virginia trial in August.
Manafort is one of several members of Trump's inner circle to be brought down by Mueller, who is expected to release his findings on questions of collusion and obstruction of justice following next month's midterm elections.
Manafort could face about 10 years in prison. He will be sentenced Feb. 8, 2019.