How to set your iPhone's AirDrop to receive photos from "Contacts Only"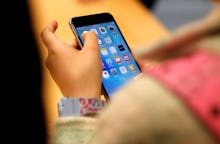 In 2014, Apple brought AirDrop to iOS, a feature that lets you quickly share files wirelessly with other iPhone users near you. It wasn't long after that people started using the feature to send strangers crude photos. Cut to 2018 and iPhone users around the world continue to see pictures of genitalia randomly pop up on their phone.
In a recent report out of Japan's Chukyo TV News (via Kotaku), women in public spaces are being sexually harassed via the file-sharing feature, often while they're already using their phones on public transportation. While the sender's photo isn't automatically downloaded to the receiver's device, AirDrop does automatically show a preview of the image onscreen.
This harassment isn't new. Reports of this type of "cyberflashing" first started to appear in 2015. In 2017, New York City subway riders reported experiencing similar incidents. And in Australia, teenagers have exploited the feature to send explicit photos to strangers.
You can change your AirDrop settings to safeguard against random crude photos
We've yet to see Apple update AirDrop so that preview images from strangers don't automatically appear. There is an option, however, to ensure that only the people you know can use AirDrop with you.
In the Settings app, tapping "General" and then "AirDrop" will allow you to change who you can wirelessly receive files from. Set the feature to "Contacts Only" to ensure you won't receive any explicit photos during tomorrow's commute.
You can change this setting even quicker using Control Center. Access the Control Center panel by either swiping up from the bottom or by swiping down from the top right corner. From there, press firmly on the top left square containing Wi-Fi and bluetooth (or tap and hold if you're on a device that doesn't support 3D Touch). Tap on the AirDrop icon and choose if you'd like to receive files from anyone, no one or just the people that you know.