Dating apps are getting more political ahead of midterm elections. What does that say about users?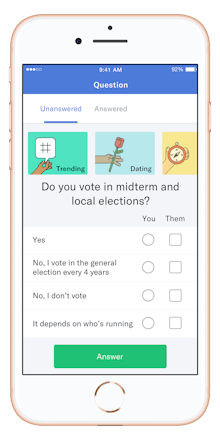 In the months after President Donald Trump was elected, Hesna Bokoum, a 22-year-old community organizer based in Chicago, began noticing a trend in the profile bio descriptions on dating apps Bumble and Tinder, which she used routinely.
"I saw, 'If you voted for Trump swipe left,'" she explained. (If you're somehow not familiar, swiping left on a profile means a user is rejecting a potential match, while swiping right means you'd like to match.) "And that's something I've seen more in red states. I lived in Atlanta and used apps in Texas. And that was more common to see if you voted for Trump, swipe this way."
Now as midterm elections approach, Bokoum has spotted another trend. "More recently, I'm seeing comments like, 'If you're not going to vote then don't swipe right on me'," she described.
What Bokoum is experiencing as an avid dating app user mirrors statistics recently released by dating app OkCupid. New data analysis the company shared with Mic reveals more millennials are observing a potential date's political views and voting status as a deal-maker or deal-breaker, especially ahead of midterms.
OkCupid saw a 64% uptick in political terms on user profiles following the 2016 presidential election and began to build features into the app to reflect their users' interests. When setting up a profile on OkCupid, users have to answer at least 15 questions, which allows them to create their own algorithm and filter out profiles that don't align with their interests.
"One of the first things we added in 2017 was a Trump question, which became known as the Trump filter, enabling people to filter in or out Trump supporters," OkCupid chief marketing officer Melissa Hobley said in a phone interview Wednesday.
In the months that followed, OkCupid also added questions stemming from other political conversations, such as Colin Kaepernick's kneeling as a form of protest, the #MeToo movement and Supreme Court apointees, Hobley shared.
"We think that the questions on the dating app should reflect what you're talking about offline at work, at bars, wherever you're hanging out," Hobley said.
The app began featuring more specific questions involving the midterm elections this past August, and the data shows there is a slight difference in the way millennial women and men view voting, politics and dating.
According to OkCupid's data, 66% of millennial women say they vote in midterm elections. Of those women, 54% said they wouldn't date someone who doesn't vote, 81% preferred that the person they're dating vote for the same political party as them and 78% feel that someone exercising their right to vote is more attractive than someone who doesn't.
Millennial women care more about their partner being a voter than millennial men, the data shows. Sixty percent of millennial men say they plan to vote in the midterms. And of them, 29% said they wouldn't date someone who doesn't exercise their right to vote and 69% said they would rather their partner vote for the same political party as them. Fifty-five percent of this group said that their partner exercising their right to vote is more attractive.
Tristan, 27, a Brooklyn, New York-based product manager who uses OkCupid and asked his last name be withheld for privacy reasons, isn't necessarily looking to see if someone is a voter when he's viewing someone's profile, but it is a factor he values in a potential partner.
"I think it would be a red flag of sorts if somebody had brought it up to me, especially if the topic of politics did come up and someone said, 'I don't really see the need to vote or have the time to vote' or something like that," he said in a phone interview.
"It always feels more natural on OkCupid if they answer the politics questions and it seems like we align on them, but when that's the front-and-center thing of their profile and they are structuring their whole personality around voting and politics, it feels a little weird."
Tristan adds that he's also noticed more people proclaiming their allegiance for or against Trump in their dating profiles since Trump was elected. So, yes, even on dating apps, the political climate feels more polarizing. "The disconnect between one side of the fence and the other feels much more like a gap than it felt like even four years ago," he said.
OkCupid isn't the only app bridging the world of politics and dating. In October, Bumble added a new "I am a voter" badge option to its profile for users to show that they will be heading to the polls in the upcoming election. "I am a voter" is part of a public awareness campaign backed by nonpartisan organization Civic Culture Coalition, which was formed by various entertainment and media companies including AMC Theatres, Vice Media and Univision Communications, according to the Hollywood Reporter.
Previously, Bumble allowed users to add a badge to their profiles stating their political views, such as conservative, moderate, liberal or apolitical.
"We hope this will lead to interesting, impassioned — but civil! — conversations," Bumble said in a blog post announcing the activation.
Tinder is also funneling messaging about voting on its app. In September, the app said it would be sharing facts about voting with its users throughout election season, TechCrunch reported.
Some of those statements include, "Did you know that only about 40% of eligible voters turn up for the midterm elections?" and "Even though millennials make up 25% of the population, they make up less than 5% of state legislatures."
Although messaging around the importance of voting is necessary whenever and wherever people can be reached, and that includes dating apps, Bokoum thinks if users are engaged with political issues even when it isn't election season, more social impact can be made.
"Civic engagement is bigger than voting every couple of years — it's knowing your local officials and policies," Bokoum said. "And if you only do these pushes a couple months before elections, it's not going make as much of a difference. Overall, it's about systemic reform and not just a text from an app saying, 'Hey did you vote?'"
Hobley hopes that by offering users up-to-date questions on voting and beyond, OkCupid can assist users with finding matches without compromising on their values.
"We hope that we enable people to proudly talk about what they care about and what their opinions are and what matters to them, whether that's climate change, the right to protest and kneeling during the national anthem or supporting Planned Parenthood," Hobley said. "We want to make it easier for you to use the things you care about to connect to other people."