Mic Daily: Trump to expand "religious liberty" rules on birth control and LGBTQ discrimination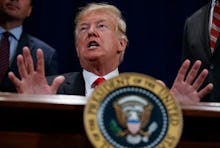 Good evening folks, and happy Friday! Before you dive head-first into the weekend, take a gander at the top five stories out of Mic today — including one about the Trump administration's planned strengthening of "religious liberty" rules surrounding birth control and discrimination against LGBTQ people.
Former Trump campaign chairman Paul Manafort, who represents a major victory for special counsel Robert Mueller's Russia probe, showed up to court Friday in a wheelchair. His attorney asked for a speedy sentencing due to "significant issues with Mr. Manafort's health right now that have to do with his confinement."
Manafort will reportedly be sentenced in February.
In recent weeks, the Trump administration has taken several steps to further so-called religious liberty rules.
One would expand the rights of employers providing coverage to employees under the Affordable Care Act to limit birth control coverage on the basis of their religious beliefs. The administration also reportedly plans to poke holes in Obama-era regulations, which, if successful, could allow employers to discriminate against LGBTQ people.
Though a litany of issues stand in the way of making Trump's ultimate fantasy — a complete wall along the United States-Mexico border — come true, one in particular has reared its head once more: the wall's negative effects on the natural environment.
In a new lawsuit, several environmental groups argue the wall will "pose significant negative threats to wildlife, their habitats and the greater surrounding ecosystem."
Sorry for the dramatic shift in tone, but things outside of D.C. are happening, too! Of note: The final theme song for Crazy Ex-Girlfriend, a delightfully clever show helmed by Rachel Bloom, is here ahead of the last season's second episode. Bloom tweeted the new theme song — which changes every season — on Friday.
Something of a controversy surrounding privilege in the fashion world has emerged recently. The figure around whom the drama orbits? A member of Kardashian-Jenner empire, of course. In this case, it's Kendall Jenner, who recently came under fire for comments that she's "super selective" about the runway shows she's a part of.
"I was never one of those girls who would do like 30 shows a season or whatever the fuck those girls do," Jenner said in Love magazine in August.
Now, model and America's Next Top Model judge Ashley Graham has weighed in.
Mic Daily is Mic's newsletter that cuts through the noise and lands in your inbox every weekday. We carefully curate each edition to send you a cross section of our most vital stories of the day.